Eleven conscientious community-involved individuals from across parishes in the County of Surrey were presented with the prestigious Governor-General's Achievement Awards (GGAA), in a luminous ceremony held at the Jamaica Conference Centre in Kingston (on Wednesday, September 23, 2015).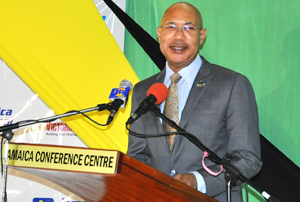 The awardees who demonstrate exceptional service above self through their voluntary contribution to the development of their communities and their high level of educational attainment through trying circumstances, were loftily commended by Governor-General, His Excellency Sir Patrick Allen.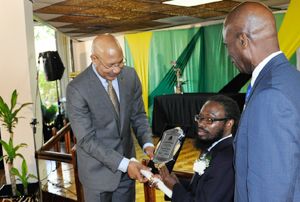 "Our awardees sheer sense of volunteerism, community involvement, and educational achievement is what is right with Jamaica and are part of the fundamental pillars building that brighter tomorrow," His Excellency Sir Patrick Allen stated in his Welcome Address.
"We are cognizant of some of the stark realities and social malaise which we encounter daily in our society, but our recipients stand as that beacon of hope; using their God-given potential to make a positive difference. [They] did not sit by indolently, waiting for handouts or for others to improve their circumstances but rather, moved on that flame of ambition burning deep within them to make a positive difference," the Governor -General articulated.
"In this the 150th anniversary year of the Morant Bay Uprising, we celebrate with you a quiet and steady revolution of resilience and abilities in the midst of declining of values, morals and attitude which confront our people today," Sir Patrick Allen further urged. 
The ceremony which was held under the theme "Values through Volunteerism, Impacting Communities: One Community at a Time," was hosted by Custos of Kingston, the Hon. Steadman Fuller who stressed the diligence of the awardee selection process and commend the awardees for their work.
"This is a reminder that voluntarism work. It is important for the building of our nation," Custos Fuller stated.
The awardees, one of whom is a paraplegic; collecting his award on a wheelchair, are  involved in projects ranging from works within the prison system, conflict resolution, personal development and spiritual upliftment, through which many lives have been 'touched', transformed and enriched.
The Governor-General's Achievement Awards is part of the wider Governor-General's Programme for Excellence which umbrellas the I Believe Initiative that carries the mantra; there is nothing wrong with Jamaica that cannot be fixed by what is right with Jamaica and is managed by National Coordinator; Major (Ret'd) Effiom Whyte and Project Coordinator Ms. Tricia Grier on whom commendations were also bestowed.
As the curtain closed with the final of the three GGAA County awards for 2015 commendations were also extended to the cooperate sponsors through whose partnership the programme is made possible. 
The next round of activities under the Governor-General's Programme for Excellence banner is the Youth Consultative Conference beginning in October and the GGAA Pinning Ceremony in November.