"Today we want you to leave here with a clear understanding that your future in this world rests in your hands.   One thing is certain; the best way to predict the future is to invent it and within this room you all have the potential to make a difference," were the arousing words from His Excellency as he delivered remarks at the first in the series of his 2015 Youth Consultative Conferences, held at the Grand Palladium Resort and Spa in Hanover (Thursday October 8, 2015).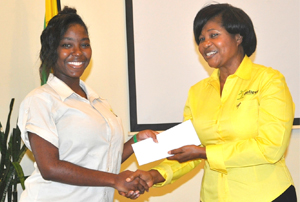 The Conferences which takes place across the three Counties in October is being held under the theme, "Talk Di Truth Future Comes First" and provides young people between the ages of 15 to 35 with fresh perspectives on self awareness and personal development. 
In his address, His Excellency encouraged the delegation of young people representing various schools and groups across the five parishes within the Country of Cornwall to engage in the day's discussions intended to motivate them to believe in themselves, as they commit to using what is right with Jamaica to fix what is wrong with Jamaica. 
"Throughout these Conferences we will offer you insights in how to prepare yourselves physically, mentally, spiritually and socially for the future and take advantage of every opportunity available to you, so that you can perform extraordinarily well in an increasingly knowledge-based global environment," the Governor-General added.  
He told the young people to "vigorously, inquisitively and rationally engage" the presenters who included, Professor Trevor Munroe from the National Integrity Commission whose presention was on "Righting the Wrong in Jamaica," Mr. Patrick Wong from Digicel Jamaica who presented on "Learning in the Real World" and Ms. Collette Brown from the National Council on Drug Abuse who urged them to "Talk Di Truth Future Comes First."There were also other presentations from the representatives of Junior Achievement Jamaica and Caribbean Consulting. 
The day's event closed with an engaging performance by Marsha-Kay, 2015 Digicel Rising Stars Finalist, prizes from sponsors who included Grace Kennedy, Digicel, the National Integrity Commission and many others.  
The next Governor-General's Youth Consultative Conference is October 22 at the Golf View Hotel in Mandeville to be followed by the Surrey County Conference at the Crest Hotel in Portland on October 29.  
The Governor General's Youth Consultative Conferences is one of the key activities of the I Believe Initiative which is predicated on the foundation of Youth Empowerment, Family Values and Education.
See report of Youth Consultative Conference for the county of Middlesex from delegate, Thalia Morris, a student of the Ferncourt High School