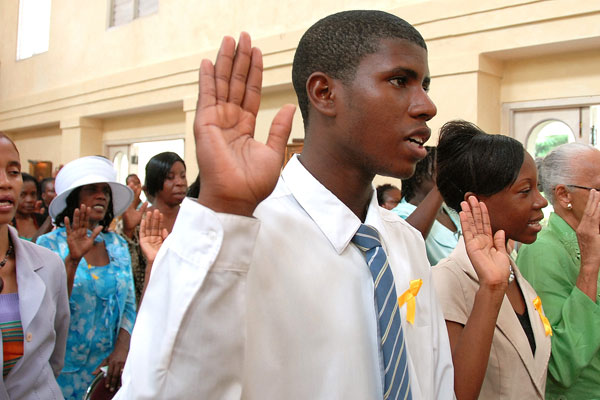 A total of 250 volunteers, who will assist the efforts of the Jamaican Foundation for Lifelong Learning (JFLL) in achieving a fully literate and numerate society, were sworn in today (June 23) by Governor General, His Excellency the Most Hon. Sir Patrick Allen.
The ceremony was held at King's House under the theme: 'I Believe…We Can…We Must.'
This is the first time that all the men and women, who give freely of their time and talents to the JFLL, are being assembled for a national swearing in ceremony. The volunteers, who come from all over the island, are critical to the organisation's success as they go into schools and communities, to teach people to read and write.
The Governor-General, in his charge to the volunteers, urged them to embrace the theme as a way of life that must be "deliberately practiced if we really want to see a change."
Dr. Allen also commended the JFLL on its work in increasing literacy from 45 per cent to 85 per cent since inception.
"This is a marked increase and yet your goal is to achieve 100 per cent. You have been charged with the responsibility to assist in creating a knowledge-based society, one that is informed and one that is empowered by the capabilities of its citizens," he pointed out.
In the meantime, Chief Education Officer, Jasper Lawrence, who represented Minister of Education, Hon. Andrew Holness, pointed out that volunteerism is critical to national development.
"Much of modern civilisation is built on volunteerism and we need to recognise that if we are going to take our civilisation to a higher level, that spirit of volunteerism… that spirit of empowering others, even as we have been empowered, is critical to national development," he stated.
Meanwhile, Chairman of the JFLL and founder and operator of the Hydel Group of Schools, Senator Hyacinth Bennett, expressed confidence in the work of the JFLL volunteers.
"I hardly think it would be an exaggeration to suggest that the story of the JFLL volunteers is one of utmost dedication and unwavering devotion to education in this country," she said.
"I believe too that it is with a sense of pride and confidence that they can claim their own sense of history for having made solid contributions to the education system in Jamaica," she added.
Today (June 23) is also being celebrated as United Nations' Public Service Day. The JFLL supports the goal of the United Nations Educational Scientific and Cultural Organisation (UNESCO) for basic education for all by 2015, and the national drive towards the achievement of universal secondary education.
JFLL was established as the Jamaica Movement for the Advancement of Literacy (JAMAL) in the 1970s, with a focus on stamping out illiteracy cross the island. The name was changed in 2007 to encourage continuous learning and development of skills and capacities, which would better enable Jamaicans to contribute to the country's development.