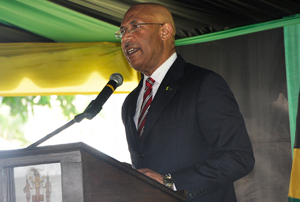 Governor-General Sir Patrick Allen today performed the final activity of the 2014 Governor-General's Achievement Awards by presenting the coveted GGAA Pin to 39 individuals for academic excellence and outstanding community service.  Twenty seven individuals under the age of thirty five and an additional twelve, ages thirty five and over, were pinned during a ceremony held at King's House.  Sir Patrick Allen said their action "demonstrates that Jamaicans are still using their abilities, skills and resources to make a difference in the country."
In his remarks, the Governor-General said that there are numerous Jamaicans who strive for excellence not only to better their own lives, but also to contribute to the wellbeing of others. He said that each of the thirty nine recipients "represent those
stalwarts of Jamaica's present and future. You are what is right about Jamaica and you are participants in this mission to fix what is wrong with Jamaica."
He said that in time to come, several of them will return to King's House for a State honour if they build on those achievements. Sir Patrick said he hoped that after hearing their citations, other guests will be inspired to make a change in their sphere of influence.
The GGAA which is celebrating 23 years, has been merged with the Governor-General's I Believe Initiative to form the Governor-General's Programme For Excellence. The programme recognizes unsung heroes who, despite their personal
circumstances, have remained committed to bettering their communities and that of their fellowmen.
Its successful execution over the years has been possible through the sponsorship of the Gleaner Company, Jamaica National Building Society, Victoria Mutual Building Society, Scotia Building Society and newest addition, the Jamaica Broilers Group of Companies.  Also playing an important role in identifying deserving recipients are Custodes and Justices of the Peace for the respective parishes.
Sir Patrick extended heartiest commendations to everyone for the support they have rendered to GGAA which he said has enhanced the awards programme. He called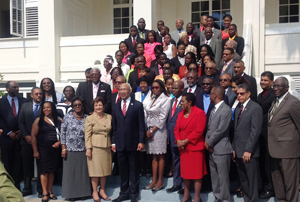 on everyone to "renew their commitment to contribute to the efforts and programme which will keep Jamaica afloat even in the challenging times."
Mr. Ian Parsard, Senior VP, Operations and Finance of Jamaica Broilers who responded on behalf of the corporate sponsors saluted the recipients for their hard work and for demonstrating strong leadership qualities. He commended The Governor-General for bringing much needed attention to the unsung heroes of the different parishes and encouraged his fellow sponsors not be weary in helping to honour those who continue to lift the standards of the nation by using what little they have.
Also sponsoring this year's Governor-General's Achievement Awards are: Telecommunications Company LIME and FLY Jamaica Airways.