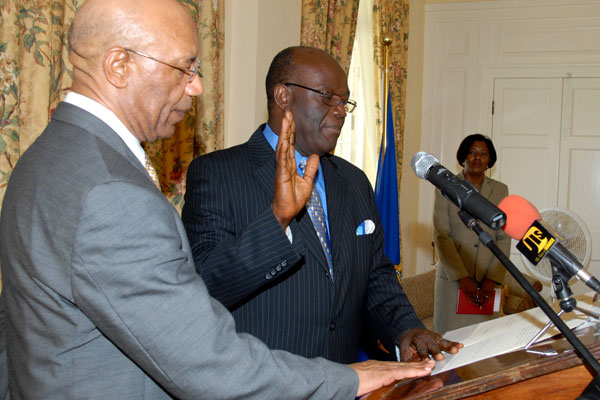 Bishop Herro Blair has been re-appointed Political Ombudsman, to serve for another five years.
Presenting the Instruments of Re-appointment, at a brief ceremony, held at King's House, today (Aug. 25), Governor-General, His Excellency the Most Hon. Sir Patrick Allen congratulated Bishop Blair on his re-appointment and for the contribution he has made over the years in that capacity.
"We are pleased that your performance was so outstanding," the Governor-General said.
He encouraged Bishop Blair to conduct all investigations into complaints relating to party political issues and perform all other functions set out by the Act. He also implored all Jamaicans to "aid and assist" with the investigations of the Ombudsman, which would ultimately benefit the country.
Responding, Bishop Blair said that he was "humbled and honoured" to be re-appointed for another term.
"I pledge and promise that for the next five years, I will continue to give human service and I will continue to stand up for Jamaica. I will, by the help of God, use this office to help Jamaica to get a 'fresh start' with the help of our political leaders and our politicians," he said.
The Ombudsman emphasised that the country needed citizens who were faithful to the rebuilding of the nation.
The role of the Political Ombudsman is to conduct investigations into complaints relating to party political issues and to perform other functions in accordance with the provisions of the Act. The Office of Political Ombudsman was established in 2002.
Prior to his re-appointment, Bishop Blair served the nation for the last seven years.