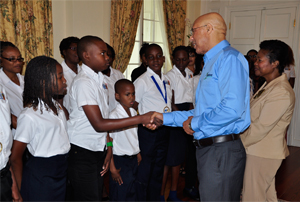 Parish champions in the 2014 Gleaner's Children's Own Spelling Bee championship were received on a Courtesy Call by Their Excellencies the Most Honourable Sir Patrick Allen and the Most Honourable Lady Allen on Thursday February 6, 2014 at King's House.
The Governor-General, who sported his "I Believe" shirt in honour of the champions, spoke briefly with each competitor, who introduced themselves and their coaches/chaperones to Their Excellencies.
The Governor-General noted that the competitors had the proper pre-requisites, namely  belief and confidence, which enabled them to cop the top place at the parish level.
"Each of you is a champion in your own right, and you must return to your institutions with this in mind. You all believed in yourselves and in your potential to achieve parish champion status, I am equally proud of all of you", said The Governor-General.
His Excellency congratulated the teachers and coaches on completing their tasks with utmost precision. He said that their guidance and detailed attention propelled the competitors and aided them in accomplishing their tasks.
Sir Patrick Allen congratulated National Champion Speller Tajaun Gibbison of the Knox Community College on his latest accomplishment.
"We are proud of you, Tajaun. We look forward to seeing you represent our country at the next stage of the competition. We all believe in you", said Sir Patrick Allen.