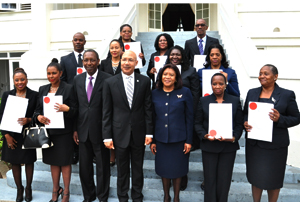 It was a historic moment at King's House on Monday, September 14 when His Excellency the Most Hon. Sir Patrick Allen, Governor General, administered the Oath of Office and the Judicial Oath to eleven judges who will serve in permanent and acting positions in both the Court of Appeal and the Supreme Court.
Sir Patrick Allen said the appointments affirm the trust that is placed in the ability of each judge to maintain the high standards of integrity which their new roles demand. "Your acceptance therefore signals your commitment to Jamaica's future development, in which the judicial system must play a key role," the Governor-General said as he assured each judge of his wholehearted support.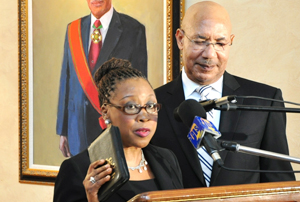 In giving the vote of thanks, the Honourable Mrs. Justice Marva McDonald-Bishop who was permanently appointed as a Judge of Appeal, charged her colleague judges to perform above expectation in order that they can leave a "delay free" justice system for the next generation and lessen the cries for justice.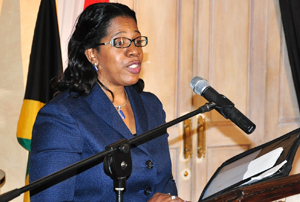 The Hon. Mrs. Justice Marva McDonald-Bishop will be joined at the Court of Appeal by the Hon. Miss Justice Paulette Williams and the Hon. Mr. Justice Frank Williams (no relation), both of whom will act as Appeal Judges.  
Of the eight judges who will serve in the Supreme Court, four have been appointed as Puisne Judges. They are Mrs. Justice Audre Lindo, Her Honour Mrs. Justice Cresencia Brown-Beckford, Her Hon. Mrs. Justice Marcia Dunbar-Green and Her Honour Mrs. Georgiana Fraser.  They will be joined in the Supreme Court by Mrs. Sonia Bertram-Linton and His Hon. Mr. Dale Palmer who were appointed to act as Puisne Judges, as well as Her Hon. Miss Carolyn Tie and Her Hon. Miss Yvonne Brown who will act as Masters-in Chambers.