Mrs. Beryl Rochester today (Mon. Feb. 10) created history when she was sworn in as the first female Custos Rotulorum for the parish of St. Elizabeth by Governor-General His Excellency the Most Honourable Sir Patrick Allen at King's House.  She succeeds the Hon. Wilfred Nembhard.
Governor-General Sir Patrick Allen reminded the new Custos that the position requires that she executes her duties with without fear or favour, affection or ill will, as residents of the parish look to her for leadership and guidance.  "I require that you execute your duties with wisdom and sound judgement as you work with the various communities and interest groups to ensure that peace, justice, unity and volunteerism are the hallmarks of the parish of St. Elizabeth," the Governor-General said.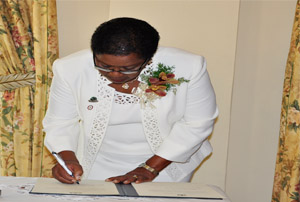 Sir Patrick Allen thanked outgoing Custos the Hon. Wilfred Nembhard, adding that he was certain that Custos Rochester would benefit from his experience as she settles in her new role.  He also expressed appreciation to Dr. Lynden Rose, President of the St. Elizabeth Lay Magistrates' Association for filling the office as Acting Custos since November 2013.
In her response, Custos Rochester said she was humbled by the appointment and also by the trust and honour bestowed upon her.  Mindful of the sacrifice and service of those who served before her, the new Custos said she hoped to continue the legacy of Custos Nembhard and Dr. Lynden Rose and that she would do so with honesty, fair play, justice, loyalty and tolerance.
Custos Beryl Rochester was supported at the swearing-in ceremony by her husband, retired Member of Parliament, Derrick Rochester and other family members. Others in attendance were Minister of Agriculture and Fisheries, Hon. Roger Clarke, Members of Parliament for the parish of St. Elizabeth, as well as the Hon. Wilfred Nembhard and Dr. Lynden Rose.