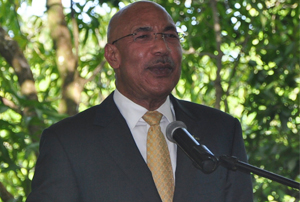 His Excellency the Most Honourable Sir Patrick Allen has paid tribute to the Honourable Roy Thompson former Custos of Portland, for his outstanding service to Jamaica which, he said, "exemplified the values and principles that are critical to the fabric of our nation."
The Governor-General was speaking on Wednesday (April 15) at a function hosted by the Lay Magistrates Association of Portland to honour Mr. Thompson.  Her Excellency the Most Honourable Lady Allen, Member of Parliament for Portland Eastern Dr. Lynvale Bloomfield, Mayor of Port Antonio Councillor Benny White, Senior Resident Magistrate for Port Antonio Miss Marjorie Moyston and Justices of the Peace for the parish were among those in attendance.
Sir Patrick Allen noted that, despite the challenges, Mr. Thompson "kept his eyes firmly on his goal, and his interactions with people at all levels were marked by courtesy, respect, kindness and thoughtfulness."  He said the former Custos had invested his life wisely and served Jamaica well over the past fifty-four years.  Prior to being appointed Custos, Mr. Thompson served in the Jamaica Constabulary Force for forty-one years and retired as Commissioner of Police.
In responding to the accolades bestowed on him, the Honourable Roy Thompson said he had no regrets and enjoyed his fifty-four years of service to his country.  "I would not hesitate to do it all over again if asked," he stated.  He thanked his hard working team of Justices of the Peace as well as the Parish Disaster Committee and
others who worked alongside him.
He stressed that the Government cannot be all things to all people all the time and so this is where volunteerism must come to the fore.  "When we improve the lives of others we are improving ourselves," Mr. Thompson concluded.