Governor-General, His Excellency the Most Honourable Sir Patrick Allen has called on residents of of his home town, Fruitful Vale in Portland, to utilise their new facilities to ensure personal and community development. He was addressing residents at the Dedication and Official Opening Ceremony of the Fruitful vale Multipurpose Complex, the Fruit Vale I.T. Centre and the Fruitful Vale Water Supply System.
The projects, initiated by the Member of Parliament for West Portland Mr. Daryl Vaz in collaboration with the CHASE Fund, the Jamaica Social Investment Fund, the Sports Development Foundation, the Universal Service Fund and Fruitful Vale Benevolent Society, were completed to the tune of approximately $60 million (JMD).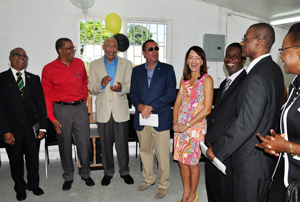 It was for that reason that Sir Patrick Allen commended the Mr. Vaz for his "tenacity, determination and love for the people." He lauded the stakeholders for their collaboration which has led to an improved standard of living in the community and the strengthening of the residents' potential to contribute to the nation's growth.
"This is a very good example of what can be achieved when we work together for the good of the people", said the Governor-General.
Sir Patrick called on the young people of the parish to grasp the new opportunities that will now be available to them through the new IT centre.  "The technological
revolution and all its possibilities for advancement, has arrived at your doorsteps.   Young people, the Technology Centre will provide a good place in which you can study, do online research or courses, or perhaps exams", encouraged the Governor-General.
He reminded the residents that "together we aspire to make Jamaica the place to live, work, raise families and do business".  He also urged them to join hands and hearts so that the community of Fruitful Vale can be an example of Jamaicans living together in harmony and willing to be supportive of each other.
In his remarks, Mr. Vaz encouraged the residents to maintain the vibrancy of the
community by taking care of the new facilities. "Every community deserves the best facilities that you have been blessed with. It is our time to work together to keep a vibrant community going", he said.
The new facilities are expected to serve the residents of Fruitful Vale and neighboring communities. The vibrant sounds of the Mento Band from Commodore, complemented the atmosphere of togetherness of the people in all three locations visited by The Governor-General.