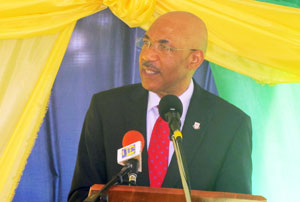 (JIS) – Governor-General, His Excellency the Most Hon. Sir Patrick Allen, says individuals and organisations must build coalitions, as they strive to protect children from abuse.
Addressing a 50th anniversary commemorative luncheon with civic and business leaders, at Laughing Waters, St. Ann, on June 21, he pointed out that during the celebration of Child Month, in May, statistics provided showed the number of abuses against the nation's children, which caused some persons to be more determined in their fight against the scourge, while shaming others who had turned a blind eye to the problem.
"We are all aware of the areas where we are gifted to make our contribution, but each one of us has seen the crying need to guard and protect our children, and defeat this threat to our nation's future. We need to have more people committed to stamping out child abuse. Each one of us has a responsibility in this challenge; it is not enough to thank God that it does not exist in our family. It is incorrect to believe that child abuse is regulated to certain sections of society, because the statistics prove otherwise," the Governor-General said.
"Collaborate in taking action at all levels necessary to rid this beautiful parish of any scourge of child abuse. We must tackle this pandemic wherever it exists across Jamaica," he urged, noting that the fight for protecting children can be won with community support.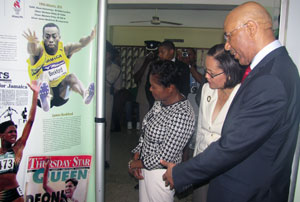 He lauded families and others who, despite challenges, have been ensuring that children receive the best education possible, adding that those efforts are making a positive difference in the lives of young people.
The Governor-General stressed that Jamaicans must use the period of the 50th Anniversary of Independence to demand the best of each other to secure a better future for children, families, communities and the nation.
"You know the importance of caring for our children, the aged, the disabled and other vulnerable members of the society.  We must be determined that we will be a channel of positive change, a transmitter of positive messages for the good of our homeland," he said.
The Governor-General, accompanied by Lady Allen, toured the Moneague College and opened the new Dr. Aubrey Phillips Lecture Theatre. They also visited Ocho Rios, the St. Ann Parish Library, in St. Ann's Bay, and viewed facilities at the Noranda Jamaica Bauxite Partners, in Discovery Bay.