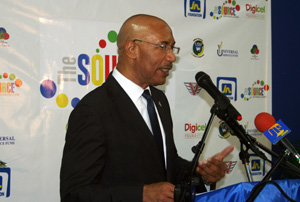 Governor-General, His Excellency the Most Hon. Sir Patrick Allen, has called for a united front, to defeat the negativity which is affecting the lives of many Jamaicans.
"At a time when so much seems to be going wrong, all of us who want the best for Jamaica, must come together to defeat the evils which threaten our safety and our security," he said.
"Each and every one of us has the responsibility to work together to take back our beloved island from the negativity and criminality which bring insecurity into the space of every Jamaican," he added.
The Governor-General made the call while delivering the keynote address at the official launch of 'The Source Savanna-la-Mar', held at the facility in the town of Westmoreland on September 26. 2012.
'The Source Savanna-la-Mar' is a community resource centre, built by the Jamaica National Building Society Foundation, in partnership with the Ministry of National Security's Citizen Security and Justice Programme (CSJP), Universal Access Fund, Digicel Foundation, Social Development Commission (SDC), Sugar Transformation Unit (STU) and the Y's Menettes and Y's Men's Clubs.
Calling for a partnership against wrongdoing in the society, the Governor- General condemned the attacks against members of the security forces, and vigilante actions. He is encouraging full support for security forces as they carry out their duties.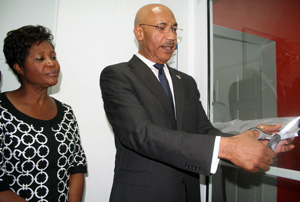 He linked the objectives of the resource centre and his 'I Believe Initiative', launched last year, noting that both seek to encourage Jamaicans to develop their potential to the fullest, so that they can contribute to the peace and prosperity of the nation.
The Governor-General   described the facility as a valuable vehicle for the advancement of the nation's people, in particular the youth. This is the fourth resource centre to be established by the JN Foundation,
He said all resource centres should include the I Believe Initiative logo on their signboards. "They should consider themselves as part of the family of 'I Believe' ambassadors, that is, Jamaicans who believe that together we can make the country a peaceful and prosperous one."
The resource centre, which is located at 224 Barracks Road, in Savanna-la-Mar, will be offering a wide range of training opportunities to persons in the town.