The students and staff of Windward Road Primary and Junior High School in East Kingston gave a warm welcome to Governor General, His Excellency the Most Hon. Sir Patrick Allen, when the Head of State paid a special visit to the institution on October 30.
The school was the Governor General's first stop in a tour of sections of Kingston to wrap up his islandwide Jamaica 50 parish tours.
He told the gathering, which included parents and members of the wider school community, that he was ending the tour on "a very high note" at their school.
The Governor General lauded the institution on its achievements over the years, noting that the school has received high commendation from the Ministry of Education. He also commended the parents for their support and urged the students to continue to "labour for learning".
Following a musical presentation by the students, the Governor General, who was accompanied by Mayor of Kingston, Councillor Angela Brown Burke, toured the school campus and interacted with the school community.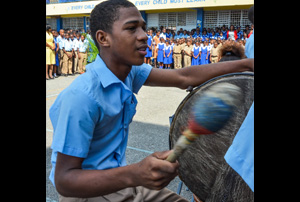 In an interview with JIS News, Vice Principal, Noel Pennant, said the visit was important because, "for us as a school, we look forward to persons of interest and importance coming to the school…it helps to boost the school morale (and) the students' self esteem".
The Governor General then went on to Port Royal, where he toured Fort Charles and the Coast Guard Station.
He also visited the Caribbean Maritime Institute where he addressed teachers and students; the Gleaner Company for a conversation with business leaders; and the Kingston Book Shop, where he addressed Justices of the Peace.
The Governor General's Jamaica 50 tour began in March. In his Independence Day message, the Head of State told the nation that in celebrating the country's Golden Jubilee, everyone should embrace justice and social equity – responding to the needs of the poor, marginalized, and weak, and being good neighbours to everyone.