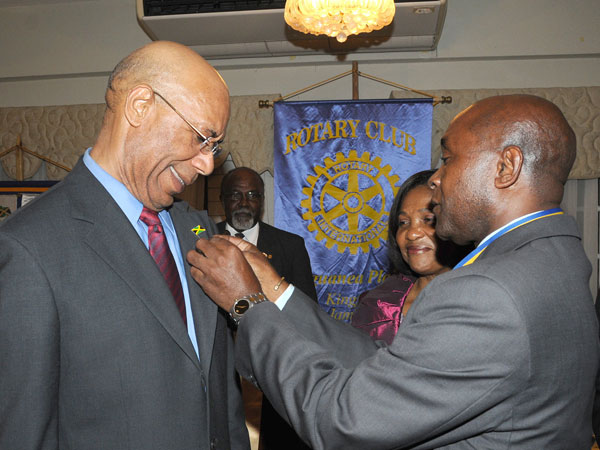 The Governor-General, His Excellency the Most Hon. Sir Patrick Allen, has urged Rotarians to stay in the battle to tackle the country's social ills.
"I believe Jamaica needs more Rotarians who are prepared to stay at the front of the battle lines, and stay there to help others. In our context, the battle is against the breakdown in family life, crime and violence, indiscipline and neglect – these are areas in which our country needs our assistance at this time," he said.
The Governor-General was addressing a Rotary Club of Liguanea Plains meeting at Eden Gardens, Kingston, recently.
Commending Rotarians for their outstanding record of service to the country, His Excellency urged the group to remain at the forefront of the battle, noting that it is a battle to restore values and respect, honesty, punctuality, hard work and discipline.
"It is the battle to reinstate the family unit to its pride of place and prominence in the Jamaican society. We need to redevelop communities and make them crime free; we need to restore social order and respect for law in all areas of national life; (and) we need to participate in the education process," he suggested.
The Governor-General also noted that, in assisting to mend some of the problems, they would be contributing to the creation of a 'world class' society, for which the reward is "a more peaceful, purposeful and united Jamaica."
"I believe that if every Jamaican makes that commitment and finds some area that needs attention; some brokenness that needs mending; someone that needs counselling; some child that needs tutoring; some lifelong learning programme that we can volunteer in – some area, if we could just make that commitment, then I think our country will be the better because of it," he concluded.