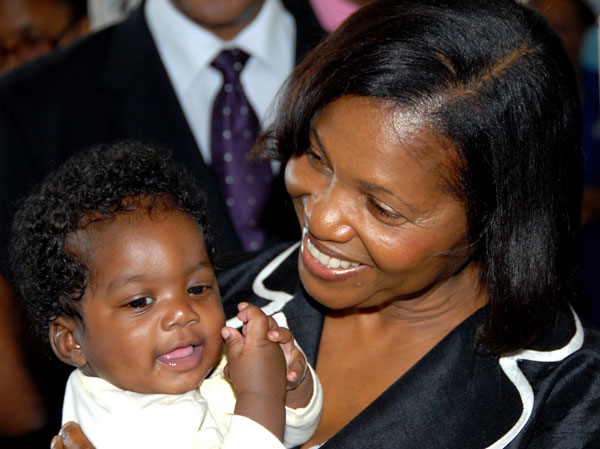 The Governor General, His Excellency the Most Hon Sir Patrick Allen, and Lady Allen brought Christmas cheer to the patients and staff of the Bustamante Hospital for Children, Monday (December 21).
The Governor General, who was making his first official visit to the institution, and Lady Allen, handed out gifts to the children and interacted with them and the staff. He expressed pleasure at being able to visit them, and thanked the hospital staff for being gracious hosts.
The visit to the Bustamante Hospital is the third stop on their tour of four hospitals for the season, to bring Christmas cheer to patients and staff.
"In addition to celebrating the birth of Jesus Christ, at Christmas we share gifts and greetings with people. When I speak of gifts, I refer not only to those of the material variety, but gifts of good cheer, spiritual upliftment, kindness and service," the Governor General stated.
He also commended the staff for the job they have been doing, and acknowledged the achievements of the Bustamante Hospital for Children in reducing paediatric deaths and helping to mitigate child abuse. He described the work of the health practitioners as a "medical ministry to humanity".
"Once a patient turns up at your office or sees you on the hospital ward, his/her life and future are in your hands. They expect you to listen, reassure, understand, be candid, be honest, be sincere and trustworthy and confidential in your delivery of patient care," he emphasized.
Senior Medical Officer at the hospital, Dr. Michelle Ann Richards Dawson, thanked Their Excellencies for the visit and praised the "display of love and affection" to patients and staff.
Chairman of the Board of the South East Regional health Authority, Lyttleton Shirley, expressed the hope that the visit by the Governor-General and Lady Allen had served to make their day brighter, in the same way they brought good cheer to the children and staff.
"We welcome your support and would love to recognize you and Lady Allen, not only as 'Your Excellencies' but now as 'Ambassadors-at-Large' for the Bustamante Hospital for Children," he said.
The hospital is the only specialist paediatric institution in the Caribbean, catering to more than 80,000 patients, from birth to 12 years old, each year.
Chief Executive Office (CEO), Beverly Needham, said that between January and November, 77,904 patients were seen in the Accident and Emergency Department which, when compared with the similar period last year, represents a 7.9 per cent decrease in patient utilization.
She disclosed that the hospital also received a total of $43.2 million, in cash, through various charitable organisations such as the Shaggy Make a Difference Foundation.
She said some of the donations received have been spent on purchasing new machines, while the remainder will be spent conducting heart surgeries on about 100 patients, 20 of which have already been carried out.