Governor-General, His Excellency the Most Hon. Sir Patrick Allen received Letters of Credence from three non-resident members of the Diplomatic Corps, today, February 9, during a brief ceremony at King's House.
The acceptance of the Credentials by The Governor-General is one of the activities to signal the beginning of Jamaica's Diplomatic Week. The week will be observed from February 8 – February 13 and will be guided by the theme: "Building Partnerships for Sustainable Development."
Presenting Letters of Credence were: His Excellency Rashid Mairza Mahmoud Al-MullaAmbassador for The State of Qatar, His Excellency Ladislav Straka,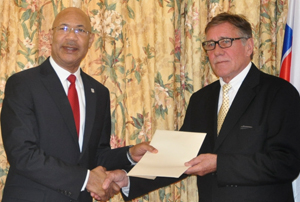 Ambassador for The Slovak Republic, Her Excellency Hawa Diakité, Ambassador for The Republic of Guinea.
The Governor-General extended warm greetings to the Ambassadors-designate and their accompanying delegation, noting that though they hail from different continents, there are shared objectives between them and Jamaica. He said that the country is committed "to doing our part for the attainment of international peace and security, global development and the building of friendly relations, in accordance with the principles and purposes of the United Nations Charter".
He reassured the Diplomats that relations are built not only through interaction with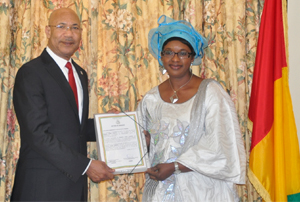 the agencies of Government and through trade in commodities and services, but also through people-to-people friendships.  "We therefore hope that during your visit you will be better able to understand our culture, enjoy our tourism product and get to know people across our society", said Sir Patrick.
He requested that the Diplomats convey to their Head of State, warmest greetings and thanks for the honour they have extended to Jamaica through their appointments to such an important service to their respective Government and people.