Governor-General the Most Honourable Sir Patrick Allen, briefly relaxed protocol at the National Heritage Week Thanksgiving Church Service, interrupting his speech to allow Prime Minister the Most Hon. Andrew Holness to provide the audience with a brief update on the goodwill and support he had expressed to the people of Haiti, Cuba and the Bahamas through their government, in the aftermath of Hurricane Mathew.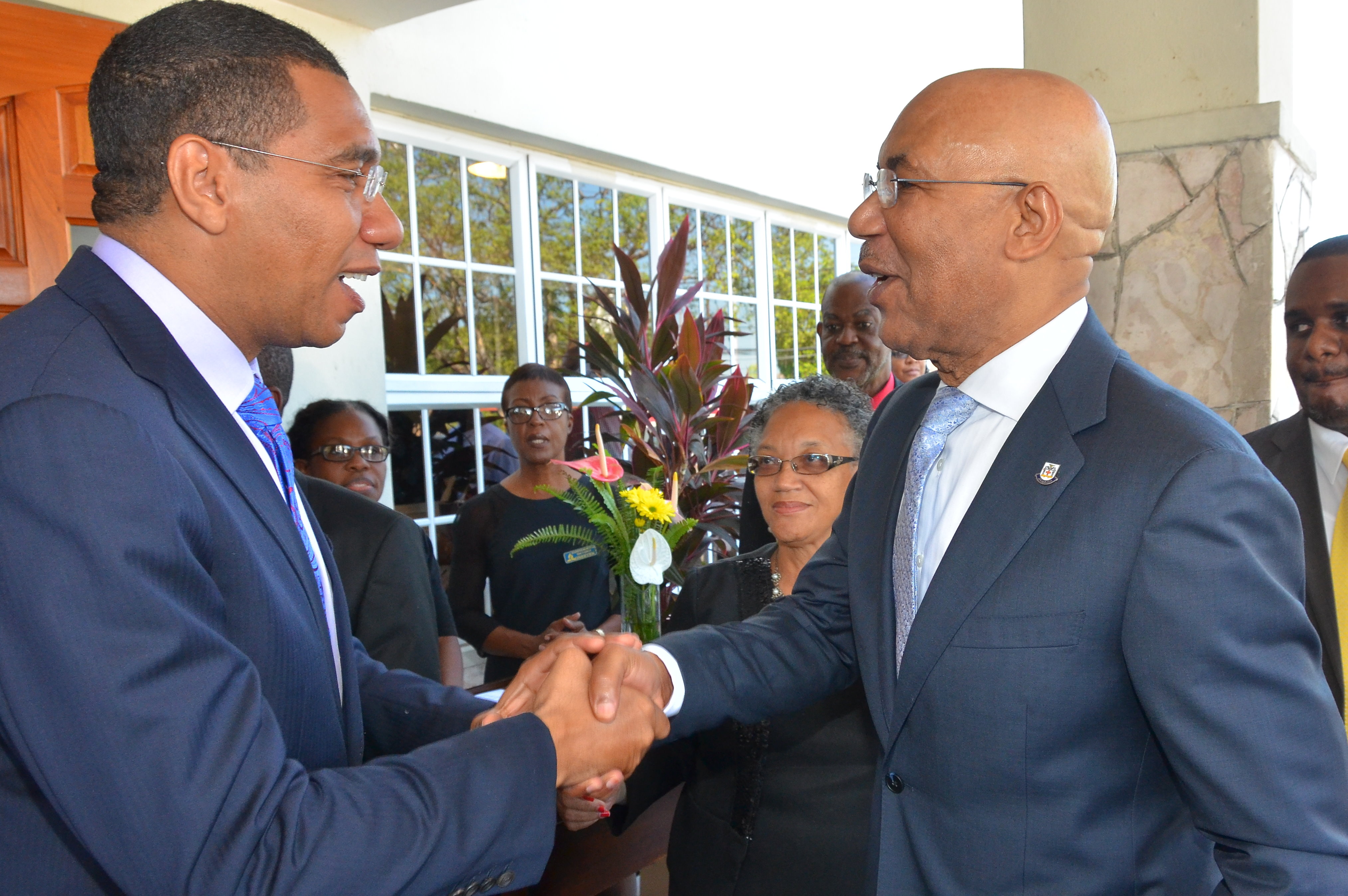 In a further show of unity for the neighboring islands, the Governor-General allowed the Prime Minister to invite the Most Hon. Portia Simpson Miller, leader of the Parliamentary Opposition to join them on the platform where His Excellency later continued his address.
In his address the Governor-General urged Jamaicans to embrace and pass on Jamaica's rich heritage to the next generation and reminded the audience that Jamaica's heritage was created out of oppression, struggle, resilience, triumph and overwhelming odds.
He stated that, the Maroon wars, with Nanny emerging as one of the fearless leaders, the sacrificial leadership of Sam Sharpe, Paul Bogle and George William Gordon, cleared a path of hope for Jamaica.
"The opportunity created by our heroes and the traditions of our parents should continue to serve as the template to open new horizons of social progress, economic growth and individual excellence," stated the Governor-General.
The Governor-General further asserted that it is the responsibility of every Jamaican to seize the moment and use our gains in ways which will make our actions count as the future is a "canvas awaiting the picture that this generation of Jamaicans and Jamaicans yet born are available and willing and ready to paint."
Meanwhile, the Honourable Olivia Grange, Minister of Culture, Gender, Entertainment and Sport urged Jamaicans to preserve the rich legacy that our ancestors have bequeath to us while Revered Christine Gooden Benguche, Pastor of the Saxthorpe Methodist Church delivered a patriotic and fully-loaded values-based ceremony quoting except from His Excellency's "I Believe Initiative" speech.
The annual National Heritage Week Thanksgiving Church Service was held on Saturday (October 8, 2016) at the Andrew's Memorial Seventh-day Adventist Church and is the first of activities to commemorate this year's National Heritage Week celebrations under the theme 'Our Heritage…Our Legacy…Our Strength.'