Governor-General Sir Patrick Allen has recognized thirteen persons from the county of Cornwall for their contribution to community development through volunteerism, with the 2015 Governor-General's Achievement Award (GGAA).  Among the awardees are five young people under the age of 24 who were recognized for their outstanding academic achievement and leadership qualities. The awardees were acknowledged at a presentation ceremony held at the Sean Lavery Faith Hall in Savanna-la-Mar, Westmoreland on Thursday, July 23.
Among the youth awardees is Sujae Boswell from St. James, who is the current Jamaica Youth Ambassador to the Commonwealth.  He was awarded for his work in community service, especially as an advocate for young people.  Other awardees in the youth category are Akili Samuels from Hanover, Nickolette Brown of Trelawny, Snaquielle Dias of Westmoreland and Patrenia Williams from the parish of St. Elizabeth.   Awardees in the 25-35 age group are Samantha Clarke, Hanover; Jerome Johnson, St. James; Kimroy Bailey, Trelawny; and Kamille Dwyer-Thomas from Westmoreland.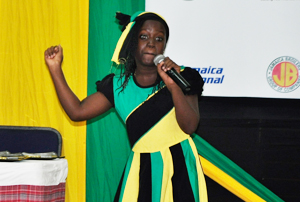 In the over thirty-five category, the Governor-General's Achievement Award was presented to Patricia Palmer of St. James; Edna Thomas, Trelawny; Yvonne Clarke, St. Elizabeth and Russell Hammond of Westmoreland.
In his address, Sir Patrick Allen said the awardees contribution to community development through volunteerism is a reaffirmation of the belief that there are enough good people in Jamaica to cause us not to give in to despair but collaborate to keep the country on solid ground.
"Our awardees today exemplify the way our people should live to bring an end to the decadence and immorality which have wrought so much harm in our country," he declared.  "Through your various community projects you have become beacons of hope, the hope necessary to guide our youth into positively viable action," he continued.
The Governor-General also had high praises for the corporate sponsors of the GGAA who he said "stand with us year after year in promoting the positive messages and encouraging the attributes which the GGAA seeks to build."  The corporate sponsors are the Gleaner Company, Jamaica National Building Society,Victoria Mutual Building Society, Scotia Jamaica Building Society, Jamaica Broilers Group of Companies and LIME.