Governor-General, His Excellency the Most Honourable Sir Patrick Allen said that nurses deserve to be recognized and appreciated for the care that they give to patients especially when they are at their most vulnerable.  "You are the ones who care for us in a special way when we are hurting and need caring and comforting hands."  "It is in that moment when we are most vulnerable that you come in," the Governor-General said.
He was speaking to representatives of the Nurses Association of Jamaica who made a courtesy call on him at King's House on Thursday, July 16, ahead of the celebration of Nurses' Week.  Among the group were finalists in the Nurse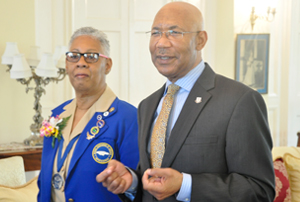 and Nursing Student of the Year Competitions.
Sir Patrick Allen said people react differently to pain and implored the nurses to give selfless service to patients who at times can be physically and verbally abusive.  "You have to be so tolerant of patients when they are hurting," he told the Nurses. Sir Patrick Allen culminated his discourse by wishing them every success during their week of celebration which commences on July 19 with a church service.