Governor-General Sir Patrick Allen has condemned the spate of brutal attacks on the nation's children and is appealing to persons with any information that can help the authorities to pass it on.  He was speaking on Thursday (Mar. 19) at the installation ceremony for the newly appointed Custos of St. Andrew, the Honourable Mrs Donna Parchment Brown which was held at Jamaica College.  The Governor-General said no one can close their eyes to the ways in which some of our children are being abused and that Jamaicans at every level must pursue efforts to protect our children.  "We must give priority to ensuring that they are not robbed of their innocence and that they can live out their childhood in comfort and safety," Sir Patrick stated.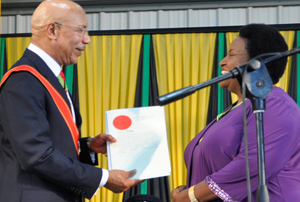 He urged the new Custos of St. Andrew and all Custodes to be in the vanguard for the resurgence of community spirit, community pride and volunteerism in each parish. "All across Jamaica we must join hands and hearts to secure the restoration of caring communities in which wholesome values and attitudes abound, where the family grows stronger and the care and protection of children takes pride of place," the Governor-General said.
He also appealed to Custodes and Justices of the Peace to form networks of like-minded citizens across the country and use their influence and community connections to help build bridges of good neighbourliness, care for each other and positive values.
In welcoming Mrs. Donna Parchment Brown as Custos of St. Andrew, Sir Patrick noted that she comes to the position with a wealth of knowledge and experience in the legal profession as well as mediation and peace building and that he expects the citizens of the parish to benefit significantly from her collaboration with her cadre of over thirteen hundred JPs, civil society and the security forces.