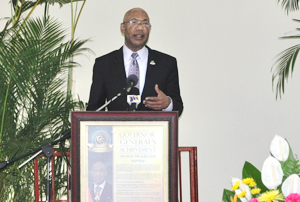 Governor- General, His Excellency the Most Hon. Sir Patrick Allen, has made an impassioned appeal for Jamaicans to be united against lawlessness and the brutality against our nation's police officers.
"As a country we regret the loss of lives to violence and mishaps, but when the protectors of the peace are being attacked, we all must be concerned and help to combat such attacks," he lamented in his address at the Governor-General Achievement Award (GGAA) held in Westmoreland, Thursday (July 23), as he made reference to recent murder victims; Constables Crystal Thomas and Lynden Barrett of the Denham Town Police Station.
Sir Patrick Allen further stated that the crime surge in Jamaica and the county of Cornwall during the past weeks, in particular, must stop. "The bloodshed must end! We must get rid of the vices, including the lotto scamming which have ruined our international reputation and are destroying several homes and lives. Gangs must be disbanded and trafficking in drugs and guns must be eradicated."
Stating that the nation "must strive together to restore Jamaica," His Excellency urged attendees that they should all collaborate with the security forces "to end the culture of silence."
The GGAA Presentations
The GGAA Presentation Ceremony was held under the theme "Values through Volunteerism: Impacting Communities One Community at a time."
Declaring that all hope is not lost; His Excellency commended the 13 awardees for their contribution to community development through their acts of volunteerism and civic pride, and urged the nation to follow the example.
"Let us all join hands with our awardees, to become volunteers, messengers of goodwill in our respective communities to help fix what is wrong with Jamaica by what is right with it."
He further emphasized that, "These Awardees reaffirm our belief that there are enough good people in Jamaica to cause us not to give in to despair, but rather collaborate to keep our country on solid ground."
The GGAA and the service oriented "I Believe Initiative" are part of the Governor-General Programme for Excellence (GGPE) aimed at empowering Jamaicans to believe in themselves and achieve their God-given potential while contributing to Nation building.
The GGAA local awards are held annually in the counties of Cornwall, Middlesex and Surey; recognizing individuals whom have been positively impacting their communities.
GGAA Middlesex is scheduled for August 27, 2015 at the Whembley Centre of Excellence in Hayes Clarendon, while GGAA Surrey will be held on September 25, 2015 at the Jamaica Conference Centre, Kingston.
Sponsors
Sir Patrick Allen expressed gratitude for the kind support from the partners of the Governor-General's Programme for Excellence and commended them for "demonstrating their faith in our people and commitment to their empowerment!"