His Excellency Sir Patrick Allen expressed gratitude to the Hon. Donna Parchment Brown, for her service as Custos Rotolorum for St. Andrew in a formal farewell at the Governor-General's annual Custodes meeting and luncheon held at King's House on Thursday (February 18, 2016).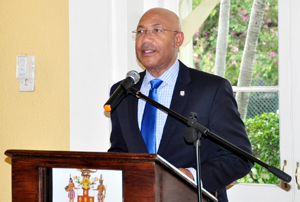 "You are well known for your extensive work as a mediation specialist which prepared you for wider service as Custos Rotolrum for the parish of St. Andrew and now as Political Ombudsman," he stated.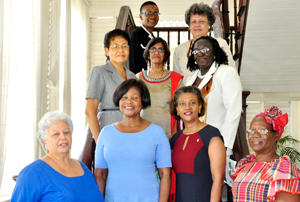 In his address, Sir Patrick Allen also commended the Custodes for the tremendous work they are doing within their respective parishes and encouraged them, as non- partisan appointees, to use their unbiased position  to "provide balance and a semblance of equity at different levels" to support the current national process in which their former colleague, the Political Ombudsman is engaged. 
"You are strategically placed to use your position of influence within your parishes to strengthen and highlight the norms which undergird our society. You have a golden opportunity, a once in a lifetime opportunity, to make your mark in your parish. If we fail, may God have mercy on us," he further stated.
Sir Patrick Allen also led a moment of silence to honour the life and work of the late Hon. Jeffery McKitty, former Custos of St. Mary. He lauded McKitty for helping to cement Jamaica's position in the global tourism marketplace and his mentoring programme encouraging young people to realize their potential.  McKitty passed away earlier last year after a period of illness. 
The highly anticipated day of activities commenced with the meeting in which the 14 Custodes presented their annual reports and along with the Governor-General, discussed strategies and plans for their 2016 work year. Concurrently, Lady Allen graciously hosted the spouses of the Custodes on a Jamaica Urban Transit Company (JUTC) City Tour, making stops at Liberty Hall in Downtown, Kingston and Devon House. 
On tour, the spouses were treated to an informative exhibition on the life and accomplishments of National Hero, The Rt. Excellent Marcus Garvey and then a detailed presentation on the history of the Famous Devon House Mansion.
For photographic highlights of this event click here.