"Invest in yourself, position yourself and be prepared!" These were the three important guidelines Governor-General Sir Patrick Allen gave to youth delegates who attended his I Believe Initiative Youth Consultative Conference in Montego Bay on October 22 at the Sea Garden Resort.
The Governor-General is optimistic that at the end of these sessions, young people will have a better perspective on how they can achieve maxim potential. "You need to understand how this major strategy for Jamaica's development affects your future," implored Sir Patrick. This is the first of three conferences to encourage bold, confident, educated youngsters to make a strong future through the Global Logistics Hub Initiative.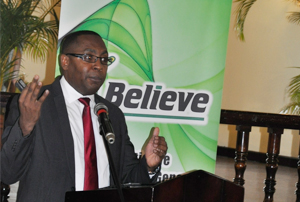 In encouraging delegates to prepare for the future, Sir Patrick told them to "develop or hone your skills which include the social ones. Invest the time necessary to learn how to improve your attitude and relationship skills. Expand your knowledge base. Invest in you so others will also want to invest in you."  As for proper positioning, The Governor-General noted that given Jamaica's ideal location in the Caribbean for  a Logistics Hub, young people must also position themselves to seize the opportunities that will result from the Hub.
"I have every faith in the inherent creativity of the nation's youth, who often need encouragement and an opportunity to shine," he stated. Sir Patrick also charged the delegates to "believe that you are among the many Jamaicans who are what is right
with this country and who will use their intellect, skills and resources to fix what is wrong with Jamaica!"
The conference provided ideas about the potential for entrepreneurial opportunities that will arise once the hub becomes a reality. These were further reinforced through presentations from: Dr. Fritz Pinnock, Executive Director Caribbean Maritime Institute and Chairman of the Logistics Task Force Subcommittee on Education and Training. Digicel Sales Manager Enterprise Solutions Mr. Godfrey Biggs presented on "connectivity in Logistics", Manger, Operations, JPS, Mr. Noel Watson focused on the use of Renewable Energy and  the Logistics Hub . Director of Porgrammes, Junior Achievement Jamaica, Ms. Yanique Taylor spoke on local entrepreneurs,
global businesses.
This series of conferences are being staged in partnership with Digicel Jamaica, Jamaica Public Service Foundation, Caribbean Maritime Institute, Grace Kennedy, Jamaica National Foundation, Jamaica Broilers Group, Junior Achievement Jamaica, the Sea Garden Beach Resort and Caribbean Airlines Limited.
The 2014 winner of the Digicel Rising Star T Rizzy, performed to close the conference.