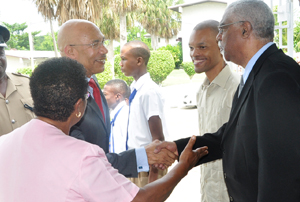 Governor-General Sir Patrick Allen charged students of the Sydney Pagan Agricultural High School in St. Elizabeth, to avoid creating self-imposed barriers that may limit their true potential. He made the comment while addressing students at the school during his tour of the parish on Thursday, June 11, 2014.
"Students, as you prepare for the rest of your life, remember that 'you are confined only by the walls you build yourself', "Dare to be wise, dare to be creative dare to succeed". He went on to explain that they (the students) are poised to lead the country to fulfilling its vision for 2030 to make Jamaica a place of choice in which to live, raise families and do business.
This charge comes ahead of the school's transformation as one of the first academies in Jamaica to operate under the STEM initiative. Come this September, the school will be called the "Sydney Pagon STEM Academy".
" You are acting wisely to ensure that our young people are better prepared for the jobs of the future under the Science, Technology, Engineering and Mathematics initiative". In addition to this, Sir Patrick encouraged the principals and teachers to ensure that students graduate with the potential for employment opportunities in the prospective Global Logistics Hub.
The school has already indicated their support of the country's development, having
contributed over 100 tons of sugar cane to the Appleton Estate since the start of the year 2014. Their overall success in the different areas of agriculture and in other areas of study was displayed through the exhibitions mounted in the school's auditorium.