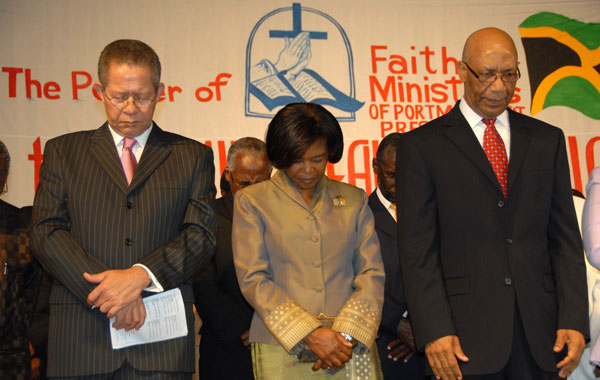 Governor-General, His Excellency, the Most Hon. Dr. Patrick Allen, has commended prayer and restorative services as a bold step in the search for healing.
"It is a call to prayer, as well as a call to action," he noted at a prayer and restorative service held under the theme: 'Heal the Nation, Heal the Family', at the National Arena on Wednesday(March 4).
Dr. Allen said that the call for restoration implied separation, or a break-down in some social systems, structures, spirituality and processes.
"Within the context of life in Jamaica, it suggests that as a country we have become separated from our traditional values, morals and customs, and this has negatively affected our normal way of life, especially in how we relate to each other," he said.
He noted that a concerted approach should be made to not only "root out" crime and violence, but to work to establish a just society in which citizens feel part of an inclusive system of opportunities.
"Let us pray and affirm here this morning that, as a country, we will forget those things which encumber us, the things of the past. Forget the mistakes, misgivings and misunderstandings and look forward to a brighter future," the Governor-General said.
Dr. Allen said he envisioned a future where every Jamaican could realize his or her full potential and utilise their God-given talents, and where people are free to interact with each other without physical or psychological barriers.
Most importantly, he said Jamaicans are looking for a country in which the young people and vulnerable groups are cared for and feel safe and secure.
He commended the organisers of the service for their passion, persistence and powerful prayers. He also lauded the church for leading from the front, as the nation grappled with the challenges of crime and violence, moral decadence and injustice.
The Prayer and Restorative Service forms parts of activities marking Peace Month, which is being celebrated during the month of March.