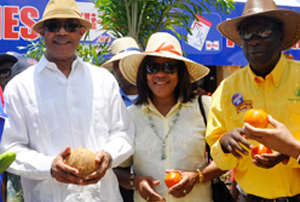 Governor-General Sir Patrick Allen has commended farmers for their undying commitment to feeding the nation despite the ravages of natural disasters and crop diseases.  He was speaking at the 62nd staging of the Denbigh Agricultural Show on August 1.
Sir Patrick Allen described 2014 as being a very challenging year for Jamaica, with the worst drought the country had seen in years.  He said despite the regularity with which hurricanes and diseases wipe out entire fields and crops, famers, motivated by an undying commitment to hard work, keep replanting their fields in order to provide a steady supply of local produce. "This year's Denbigh Agricultural and Industrial Show reflects the resilience of our people and is evidence of a 'never say
die' spirit," Sir Patrick Allen declared.
He encouraged Jamaicans to emulate the 'can do' spirit of farmers in order to achieve our national goals and objectives.  "From Negril to Morant Point, on the hills and in the valleys, we can emulate the "can do" spirit of our farmers and remain positive and focused, as the needle to the pole, on achieving our goal of building a strong nation," he said.
Sir Patrick Allen stated that although there was an abundance of foods, fruits, vegetables and spices a huge appetite for imported foods still existed which would drain the country of financial resources and weaken the economy.  He said
agriculture was used to create wealth in many developed countries and that industry must also be a priority for us here in Jamaica.
"I am fully aware that we operate in a global economy which makes it impossible for us to totally close our borders to imports.  But, as we celebrate the 10th Anniversary of the 'Eat Jamaican' Campaign, we must grow what we eat and eat what we grow, he stated.
The Denbigh Agricultural Show was held from August 1 to 3 under the theme: "Grow What We Eat, Eat What We Grow: Agriculture …Going for Growth." Sir Patrick Allen, on behalf of the Jamaica Agricultural Society, presented former
Governor-General Sir Kenneth Hall, former Prime Minister PJ Patterson and former Agriculture Minister Robert Montague with Gold Awards in recognition of their contribution to the 'Eat Jamaican' Campaign.