Governor-General Sir Patrick Allen has lauded the Jamaica Manufacturers' Association (JMA) for becoming the first business support organization to sign a Memorandum of Understanding with Creditinfo Jamaica, to assist members to better manage their credit facilities.
Sir Patrick Allen who was on a recent corporate visit to the JMA's head office, said the move was significant to the growth and development of the manufacturing sector and represents "another step to strengthen the capacity and ability of members to be successful."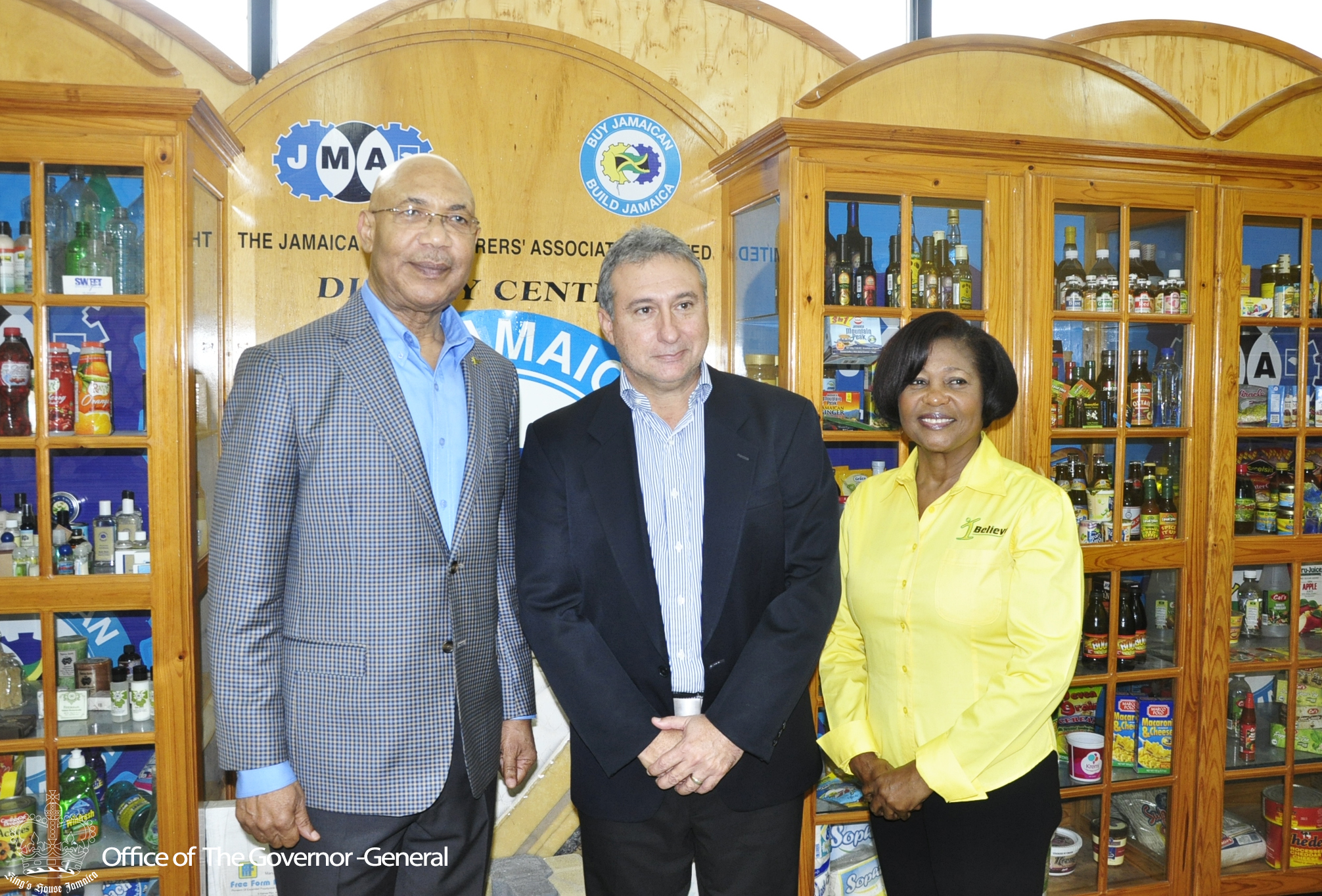 On arrival at the JMA, The Governor-General and Lady Allen were greeted warmly by President Metry Seaga and Executive Director Imgea Breese-McNab. Following brief staff introductions, they were invited to view a display of products by some of the over 400 member companies of the JMA.
An inspired Sir Patrick Allen said the products and packaging were appealing to the eye and urged the JMA to spearhead a project to market Jamaican products in every tourist resort, so that visitors to the island can be encouraged to purchase those products in their country of origin. "Brand Jamaica is so appealing across the world and there is so much of what we are doing in Jamaica that needs to be shared with the rest of the world," he stated.
Sir Patrick Allen said the corporate visit is an initiative by King's House which seeks to affirm the work of organizations like the JMA. He told the Board of Directors that as part of its corporate social responsibility, King's House is using the I Believe Initiative to instill in young people, values that are right for the manufacturing sector. "King's House is making every effort to get close to the people of Jamaica. Time management and an understanding of quality are values that the IBI is aiming to instill and this is right for workers in the manufacturing sector," he said.
In his remarks, JMA President Metry Seaga said the future of manufacturing in Jamaica is encouraging with a 3.1 per cent growth rate. He said the JMA will continue to promote the Buy Jamaican message, as every product sold, creates a job for Jamaicans.
The Governor-General's visit to the JMA is his first in a series of corperate visits for 2016. The next visit is slated for Newport-Fersan Jamaica Limited.