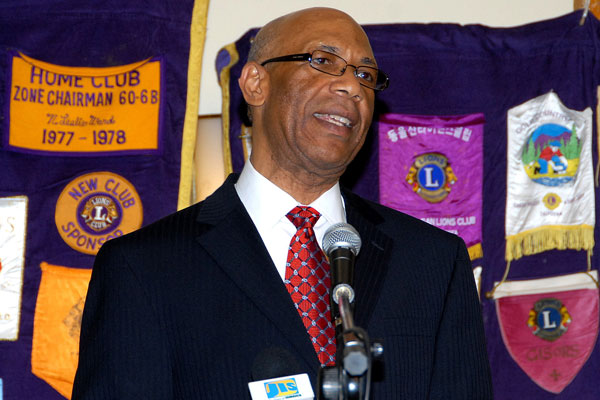 Governor-General, His Excellency, the Most Hon. Dr. Patrick Allen, O.N., on Wednesday (Mar. 4), officially launched the Kingston Lions Club's White Cane Month, during their weekly luncheon at the Jamaica Pegasus Hotel, New Kingston.
In a brief address, Dr. Allen highlighted the record of outstanding voluntary service which the Lions Clubs have given to Jamaica, noting that the organization has celebrated White Cane Month every March since 1965.
He said that over the years, the Lions Clubs have organised and embarked on initiatives aimed at early detection of eye diseases, and have helped the visually impaired to develop a renewed sense of hope and self confidence in their ability to succeed.
Activities for White Cane Month activities have served to heighten awareness of and solicit support for the challenges of the visually impaired, he added.
"White Cane Month, this year, provides us with a great opportunity, not only to highlight the plight of the blind and the visually impaired, but also to draw the attention of the sighted to our responsibility to see to it that we do everything possible to prevent blindness and, at the same time, to be sensitive to the needs of those who have lost their sight," he said.
Dr. Allen also referred to the Lions national census project, launched in March, 2008, which aims to formally register and create a databank of Jamaica's estimated 23,000 visually impaired.
He pointed out that over 200 persons have been registered since the exercise commenced in October, 2008.
The information allows the Lions Clubs, as well as organizations such as the Jamaica Society for the Blind, the Adult Blind Club of Jamaica and the Salvation Army School for the Blind, to determine the needs and develop better responses to these persons.
Dr. Allen was bestowed with honorary membership in the Lions Club of Kingston at the meeting.