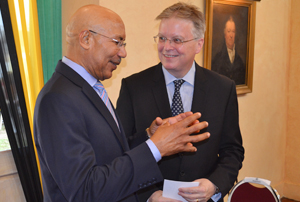 Their Excellencies the Most Hon. Sir Patrick Allen, Governor-General and the Most Honourable Lady Allen, on Wednesday, September 9 hosted a function befitting Royalty as Her Majesty Queen Elizabeth made history by becoming the longest serving British and English Monarch. The function was attended by the Most Hon. Prime Minister Portia Simpson Miller, Leader of the Opposition, Government Ministers, former Governor-General, former Prime Ministers and members of the Diplomatic Corps as well as students, some of whom honoured her in speech and music.  
In his remarks, the Governor-General congratulated Her Majesty and commended her "effortless dignity and humility and generosity of spirit" over the past sixty-three years, seven months and two days.  He also acknowledged her exemplary leadership as Head of the Commonwealth, Queen of Great Britain and the Realm Countries including Jamaica.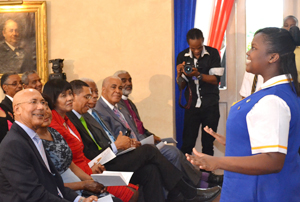 Sir Patrick Allen said that her reign spans two centuries, each with tremendous technological, sociological and political changes and added that, "the grace and confidence with which she has embraced each inevitable change is a model for leaders everywhere."
He said the Commonwealth withstood its fair share of challenges and credits her remarkable leadership and resilience in the process.  "Her passion for the Commonwealth and her ability to connect with and unite people are hallmarks of her distinguished reign," he stated.
The celebratory event featured several performances including the singing of The British Coronation Anthem by the National chorale of Jamaica, a musical recital of "Capriol Suite" by the National Youth Orchestra of Jamaica as well as a speech ensemble entitled "God Save Our Grace Queen" written by Kenneth "Kenny" Salmon and performed by High School speech students. 
Her Majesty acceded the throne on February 6, 1952 and is the 40th Monarch since William the Conqueror obtained the crown of England.  She has visited Jamaica six times, the last of which was in 2002 on the occasion of her Golden Jubilee.