Governor-General Sir Patrick Allen on Wednesday (June 1, 2016) received a courtesy call from award winning young leaders and their runners-up in The Queen Elizabeth Diamond Jubilee Trust. The contingent which was led by Dr. Astrid Bonfield, CBE, Chief Executive of The Queen Elizabeth Diamond Jubilee Trust included Nicole Nation, a medical student and 2015 Youth Leader from Jamaica and her fellow 2015 awardee from Dominica, Kellyn George.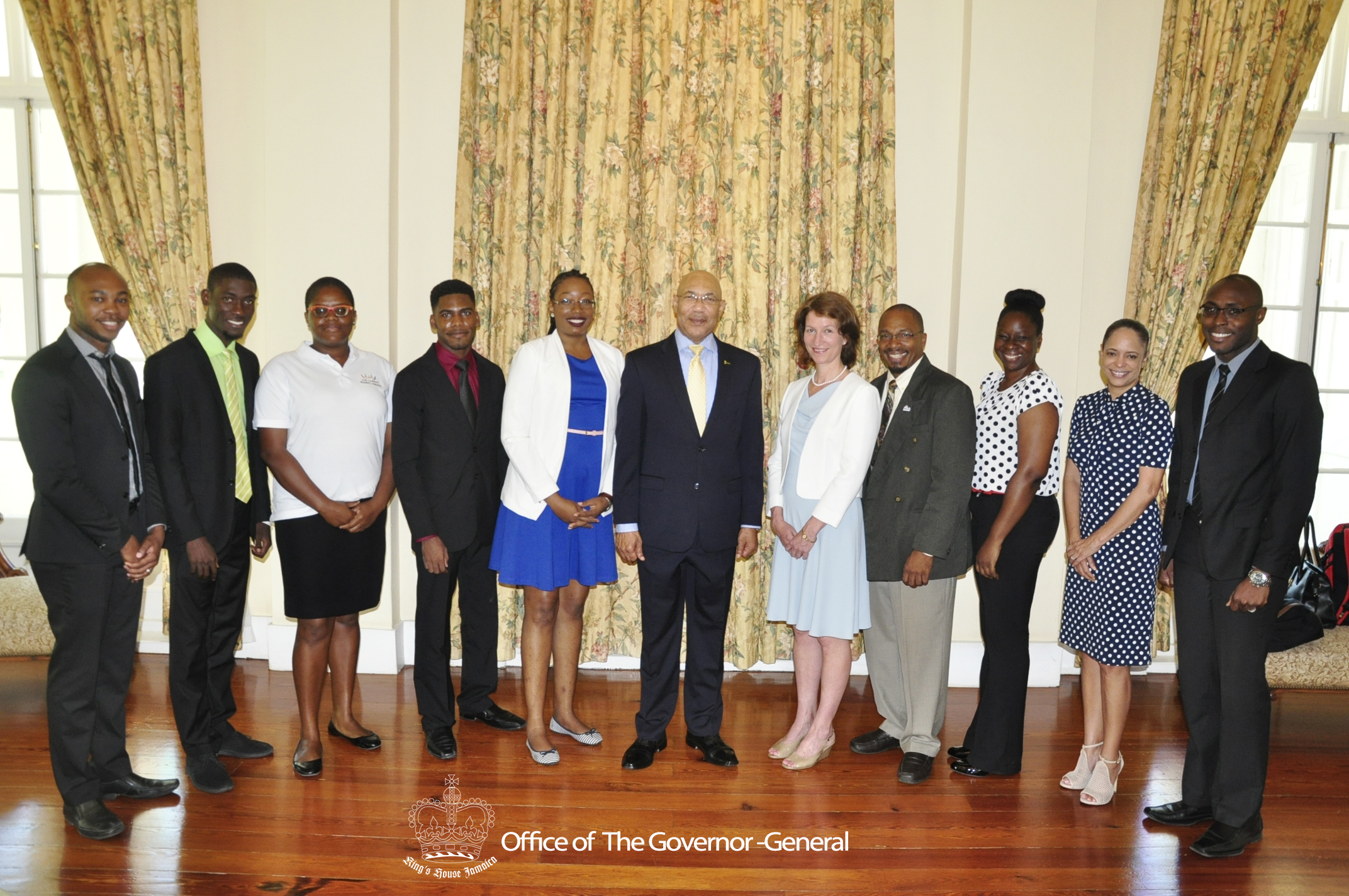 Also present were Nicholas Kee and Kevaughn Ellis, Jamaica's Highly Commended Runners-up for 2016 while Tijani Christian, The Queen's Young Leader for 2016 for Jamaica was unavoidably absent.
During the visit His Excellency expressed that the Diamond Jubilee Trust is a reflection of Her Majesty's keen interest in youth who comprise more than 60 per cent of the Commonwealth population, and urged the young leaders to embrace the unique opportunity they have received.
The Queen Elizabeth Diamond Jubilee Trust
The Queen Elizabeth Diamond Jubilee Trust is a charitable foundation established in 2012 to mark and celebrate Her Majesty's sixty-year contribution as monarch and Head of the Commonwealth.
Its mission is to enrich the lives of people from all background of the Commonwealth by empowering a new generation of young leaders. With a five-year timeline in which to deliver successful programmes, the Trust also works with partners to deliver its mandate.
In Jamaica, four projects are currently being funded by the Trust in excess of £1.5 million. They are Sandals Foundation, J-Flag, Jamaica Youth Business Trust and the Digicel Foundation-Jamaica.
In 2012 Jamaica celebrated Her Majesty's Diamond Jubilee with a church service, beacon lighting ceremonies across the country and the issuance of Diamond Jubilee Medals to members of the Emergency Services. Their Excellencies also hosted His Royal Highness Prince Henry of Wales (Prince Harry) who paid an official visit to Jamaica as part of the celebrations.