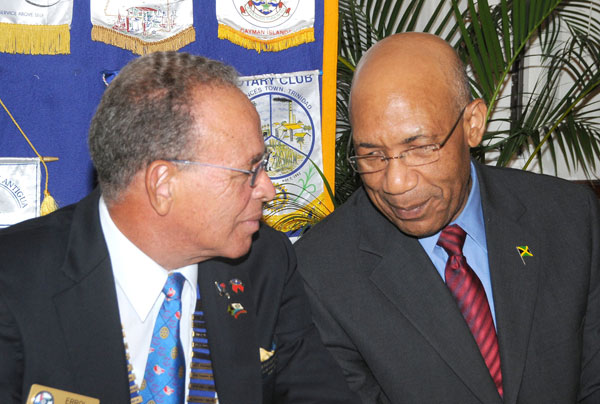 Governor-General, His Excellency, the Most Hon. Sir Patrick Allen, has praised the Rotary Club of Liguanea Plains for its service to needy Jamaicans, through health, education and other community development activities.
"A service club is best described by the extent of its mission and of its service to others and especially the individuals, who are recipients of your service, who are really in need …the Rotary Club of Liguanea Plains has provided health screening services to many Jamaicans through its 'Wellness Tour' of 15 inner-city communities," he stated.
Governor-General was addressing a special meeting of the club at Eden Gardens in Kingston yesterday (Sept. 10), where he was inducted as an honorary member.
Citing the club's adoption of the New Providence Primary School in Kingston, the Governor-General noted that this move has greatly impacted the school community. "Your mentorship and school intervention programmes continue to motivate students and give them a new lease on life," he stated.
Assistant District Governor of the club, Clarence Clarke, informed that the honorary membership was conferred on the Governor-General "because you have distinguished yourself by meritorious service in the furtherance of Rotary ideals. We realise that your own personal mantra is consistent with Rotaries, which is 'service above self'."
"You are now an ambassador for (the) Rotary and we know that you will carry these ideals and the principles of Rotary service to those who know you or those with whom you are associated," he stated.
The Assistant District Governor reminded that honorary membership in the Rotary is a privilege, which carries with it many obligations "and we know that you will recognise these and welcome them as opportunities for service."
An honorary member of the Rotary is elected for one year only and membership must be renewed annually. In addition, honorary members cannot recommend new members or hold office, and are exempt from attendance requirements and club dues.