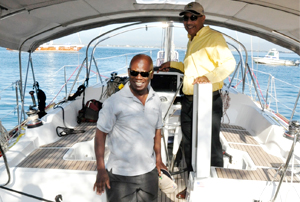 As patron of the Royal Jamaica Yacht Club and occasional sailor, Governor-General, Sir Patrick Allen blows the horn to signal the start of the first race in the inaugural Round Jamaica Yacht Race which commenced sail from the Morgan Harbour Pier in Port Royal, Friday (January22, 2016) morning.
Competing in the race around Jamaica are six sail boats including the Jamaican built Perseverance, Custos Fuller's; Full-a-Style, and Race Organizer, Mark Shield's own Breakaway.
The Governor-General's presence for the racers was an assurance that they can be winners if they persevere through the endurance-driven sport.
Organized in association with the Royal Yacht Club, the event is aimed at attracting more international attention to Port Royal and heightening interest in the sport of Yacht Racing.
The race course is from Port Royal through the Kingston South Channel into Kingston, and from there the boats have the choice to head west to Round Jamaica in a clockwise manner or easterly to Round Jamaica in a counterclockwise manner returning to the South Channel and finishing in Port Royal. 
The boats are all equipped with devices to allow their progress to be tracked on-line, in Social Media.