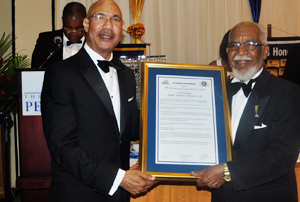 Governor-General Sir Patrick Allen is encouraging service clubs in Jamaica to combine their talents and expertise in order to identify solutions to the social challenges facing the nation.  He was speaking at the Fiftieth Anniversary Banquet of the Kiwanis Club of Kingston at the Jamaica Pegasus Hotel on Tuesday (Mar. 25.)
Sir Patrick Allen said while some persons are of the opinion that our country's worst problems manifest themselves in situations of economic deprivation, they stem from an increasing tolerance for indiscipline and unwholesome behaviour.  He said solutions must therefore be found through partnerships and cooperation.
"Let none of us fool ourselves that we have no role in forging solutions.  Government
cannot do it alone.  Neither can the Church, the school, the family nor any other institution acting on their own, reverse this negative tide," he stated.
He noted that Jamaica would need more than law enforcement to curb its high crime rate and other social problems, hence his call for Service Clubs to unite around one far-reaching national project, for greater and more sustainable impact.
Sir Patrick Allen said that if actively pursued, the six values-based Permanent Objectives of Kiwanis could become an unassailable force for positive change in the country.
He commended the Kiwanis Club of Kingston for its fifty years of service to nation building and lauded the fiftieth anniversary honorees for their undeniable commitment to altruistic service.