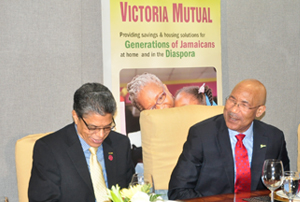 His Excellency The Governor-General, has encouraged the Victoria Mutual Building Society to continue on its path of national development. He was addressing the group's executive body during his Corporate Visit to the company's Head Office in Half-Way Tree today, June 26, 2014.
"I can see, Mr. Powell, where VMBS is ensuring the development of Jamaica, not just financially but also in developing the people of our country. It is so important to focus on the things that money can't buy.  I want to encourage you on this path of growth and development and ask that as you evolve, that you keep the core values that have made this company a thriving one", said the Governor-General.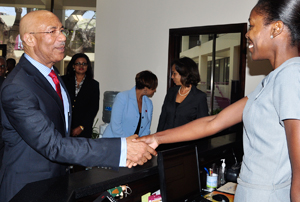 He highlighted the fact that the company has been supporting the Governor-General's Achievement Awards programme since its inception. "We are very pleased that the Office of the Governor-General can associate with VMBS in acknowledging our community heroes", noted Sir Patrick Allen.  He indicated that his visit to the company was to affirm, encourage and applaud them on successfully weathering the economic challenges encountered in their quest to serve the people.
The Governor-General listened keenly to the VMBS' Group executives as they explained the role and functions of their respective departments.  He then commended them for what the company had been able to achieve, through their efforts.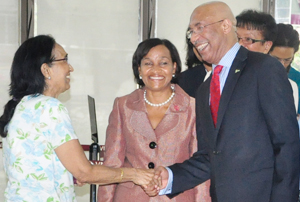 The visit included a physical tour of the company's Head Office.  Sir Patrick Allen said that the warm greeting he received when he visited the Member Engagement Centre, the Group Human Resources, Prime Asset Management and the Halfway tree branch, was certainly a positive indication of their overall service to their customers. Not to be left out were the customers who interacted with The Governor-General as they conducted their usual business activities at the branch.