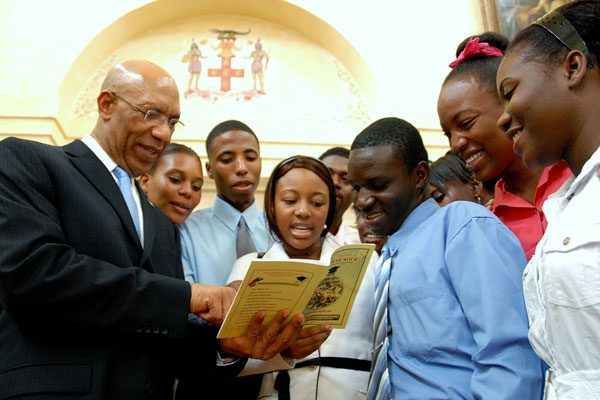 Governor-General, His Excellency the Most Hon. Sir Patrick Allen, has described the newly launched Students' Motivational Manual, as a road map to success for young people.
"I would say that the manual is a sort of road map that, if you follow closely, it will help you to reap success not only in academic areas, but also in your personal lives," the Governor-General said.
"It is a road map that has successfully taken some students to their destinations, and so I can recommend it to others. It is a road map that will help you to accept yourself, believe in yourself and stay focussed on your established goals," His Excellency said, during a ceremony at King's House Monday (August 17) to officially launch the manual.
He noted that it was an opportune time for its launch, as the new school year will start soon.
"I am sure it is being launched in time, so that it can be visible in the classroom. Her Excellency and I are quite honoured and pleased to be associated with this manual, which is going to show the type of values that must be instilled in our youngsters in order to have a society that is kind, just and gentle," he said.
"I hope that the launch and circulation of this manual will help to improve the attitudes and behaviour of our children. I believe also that the manual will encourage and inspire students to achieve and to believe in their dreams and ultimately, reality," he added.
He pointed out that it is written in very simple language, and is fun and is easy to read. The tips and exercises provide an opportunity for introspection and reflection, as students contemplate where they are now and what they want to do in the future.
The manual targets young persons aged 10-20. It was compiled from a special research project to address the growing level of social problems affecting youths, such as lack of self confidence and positive mental attitude, de-motivation, academic under-achievements and propensity to anti-social activity.
The key objectives are to stimulate self-confidence and positive mental attitude; encourage better acceptance of self and appreciation of the discipline of hard work; and to fight low esteem and under-achievement.
The project was co-ordinated by social development practitioner and author of the manual, Archibald Edwards, with inputs from sociologists, social workers and educators.
The Governor-General praised Mr. Edwards, as a Jamaican who wants to make a difference.
"I was touched by the fact that, here is a man who wants to put his conviction in a way that it can impact others. I saw in him a man with love and commitment for God and for country, one who is indeed a real patriot, if there is any," he explained.
He warned the young people present that success does not come over night.
"Do not allow yourselves to be distracted by the instant success syndrome. It doesn't happen, it's not just a quick fix – a get rich quick approach; all those approaches are faulty, and you should be suspicious of the quick fix. I want you not to be distracted by the 'bling, bling' mentality around you. Stay in school, stay cool, and keep your eyes focussed on your goal," His Excellency appealed to the youths.