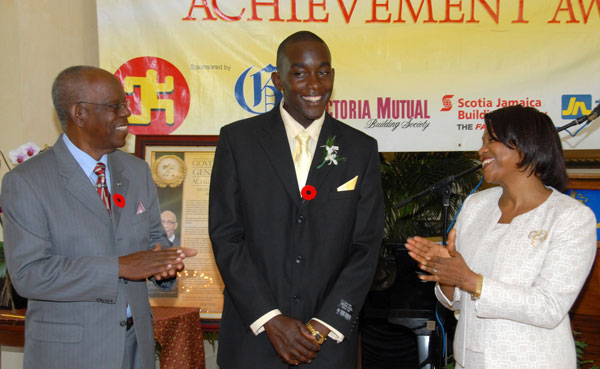 Twenty-two year old Manchester farmer Nicholas Powell, a recipient of the 2009 Governor-General's National Youth Award of Excellence, is working to develop a hurricane-proof greenhouse for the local farming sector.
This move is in line with the current thrust by the Ministry of Agriculture to increase the use of greenhouse technology to boost agricultural production.
A recent electrical engineering graduate from the University of Technology (UTech), Nicholas has completed research for the design of the greenhouse under the supervision of lecturer Andrew Isaacs and with partners Krishna Isaacs and Adrian Bloomfield.
"In terms of research it's complete. We've researched what type of lighting we'll use, the temperature system we'll implement, humidity, irrigation, the structure and costs. So basically everything is on paper, it's just a matter of implementing it," he informs.
Nicholas was speaking to JIS News at the Governor-General's Achievement Award pinning ceremony held on Wednesday (November 11) at King's House. About 20 Jamaicans from the island's three counties were recognized for their work in contributing to the development of their communities and imparting wholesome values to the youth.
One of six National Youth Awardees, Nicholas was recognised with the honour for positively impacting the lives of residents of the Coffee Grove community in which he resides.
The young man, who grew up in a farming family, started cultivating his own small plot at age 10. He has since developed land acquired from his parents, Melverna and Beriah Powell, and now plants tomato, cabbage, cucumber and sweet potato, coffee and yam, employing five to eight people on a weekly basis.
He also contributes to community development, by putting on fundraising activities through which four computers have been purchased to benefit young people in the community; contributed to the upgrading of sanitary facilities at the Coffee Grove Basic School; and provides educational assistance for students.
Explaining the reason for the greenhouse project, Nicholas tells JIS News that having grown up on a farm and seeing the devastating effects of a hurricane and insects attacks, he realized that utilising greenhouse technology, could results in higher yield and better price when the demand is high.
He says that he would be seeking further technical and financial assistance to get the project off the ground, which would be utilise several innovative materials and strategies.
"We'll be using high pressure sodium bulbs to produce optimum lighting. We want to have a structure that is enclosed so we control the temperature at different times for optimal production. So, what we propose to control is mainly lighting, temperature and irrigation/fertilizer," he informs.
Nicholas says he is humbled by the honour from the GG, and will be using the award as an impetus to continue to work hard to achieve his dreams.
Nicholas' parents tell JIS News that they are very proud of their son's achievements. They say that Nicholas has had a passionate love for farming since he was a child.
"He has (long) had this intention of this greenhouse, which I believe is a better way of doing farming. You are able to produce more from the use of such technology so I'm hoping that everything will work out," Mr. Powell says, while encouraging farmers to utilize greenhouse technology for better and higher yields.
In the meantime, the Governor-General urged all the awardees to continue their quest for excellence.
"The journey is not complete. You must continue to go the extra mile. In as much as you've done so far and have done so well we will have to ask you to continue joining us, hands and heart heralding a new day, to go an extra mile with us whatever it takes until we get the job done here in Jamaica," he urged.