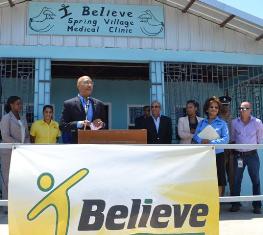 The "I Believe" Initiative, a programme of Governor-General the Most Hon. Sir Patrick Allen, has made good on a promise to assist the Spring Village Development Foundation with the construction of the "I Believe" Medical Centre. In April 2012 Sir Patrick visited the community and saw first-hand the work of the Foundation which was established as a direct response to high rates of unemployment, high school dropout and other prevailing socio-economic woes. He observed that the efforts of the community mirrored his 'I Believe' Initiative (IBI) which was launched in 2011. In July, 2012, the Governor-General declared Spring Village as the first "I Believe Village".
Last Tuesday (Apr. 23) the Governor-General and Lady Allen revisited the community and donated $200,000 dollars towards the completion of the clinic. The donation was made possible through contributions from three sponsors of the "I Believe" Initiative: Scotiabank Jamaica Limited, Maffessanti Builders and Contractors Limited and Fosrich Group of Companies.
Sir Patrick commended the people of Spring Village who, having recognized their community"s problems, did not sit around waiting for hand-outs, but worked together to overcome the challenges. This was the true spirit of the IBI, which he hoped other communities would emulate. The "I Believe" Medical Centre marks the third collaboration between the IBI and the Spring Village Development Foundation (SVDF), the others being IBI"s sponsorship of a Teen Pageant and collaboration with LIME for the installation of free Wifi Internet access in the community.
Sir Patrick also congratulated Mr. Robert Levy and Best Dressed Chicken for their heightened sense of corporate social responsibility which prompted their constant support of Spring Village.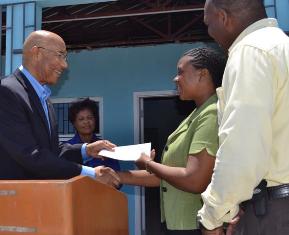 The medical clinic is the brainchild of the SVDF. In addition to the I Believe Initiative, the project has received assistance from US-based Dr. Gayle Lumdeen and the Global Mission, as well as Food for the Poor. Executive Director of the SVDF, Mr. Randy Finikin, said that phase one of the project would provide medical services such as a Mother and Child Clinic and dental services by certified health professionals. Phase one is expected to be launched in May. Phase two will include expansion of the dental services, mental health and training in occupational health.