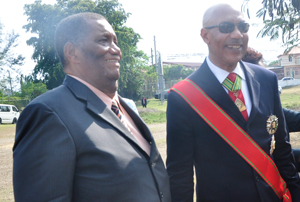 It is with shock and sadness that I learnt of the passing of the Honourable Roger Clarke, Minister of Agriculture and Fisheries earlier today.  Only recently I joined with all other Jamaicans in wishing him a speedy recovery as he underwent surgery.  We were all hopeful for his return to office at the end of his sick leave, to lead the Agriculture portfolio which he did so diligently from 1998 to 2007 and again since 2012.
Raised in the heart of the nation's sugar belt, Minister Clarke not only had a passion for agriculture, but he also had a deep sense of kinship with members of the farming community across Jamaica.  He was also acutely aware of the challenges facing persons living in farming communities and this further deepened his determination to serve them with all his might.
Roger Clarke had an undying love for the people of Jamaica and demonstrated this through his stewardship as Councillor of the Balaclava Division and later as Mayor of Black River. This love for country and people also motivated his effective service as Member of Parliament, Minister of Local Government and Minister of Agriculture, as well as Vice President of his party.
Mr. Clarke will be greatly missed by all of us who will forever remember his winsome personality, ready wit, humility and kindheartedness.  We shall always recall his commitment to building agriculture and his conviction that the sector could be the key to unlock economic opportunities for Jamaica.
Lady Allen joins me in expressing sincere condolence to his widow Sonia, his children and extended family. May you find solace in the Almighty and love of family and friends at this time of bereavement.