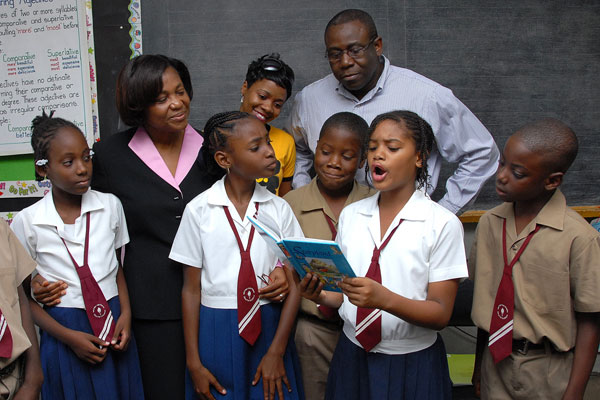 Spouse of the Governor-General, Her Excellency the Most Honourable Patricia Allen, has encouraged students to be "hungry and thirsty for reading."
But, even as she urged them to read widely, she cautioned students to, "guard well what you read, because you can read things that can also destroy your minds. Books, like friends, should be few and well chosen, for they will never leave us."
Mrs. Allen was speaking today (May 4), at the launch of National Reading Week, at the Half-Way Tree Primary School, in Kingston. The week is being celebrated under the theme: 'Read Today for a Brighter Tomorrow'.
The Governor-General's wife, who is patron of the week, read the story 'Mongooses' to Grade 5 students, from the book 'Aesop and His Fables and Other Stories.' As Mrs. Allen read to the students, her skill as a former teacher was evident, as she paused occasionally to ensure that the students were paying attention.
Several other leaders, who participated in today's exercise at the school, also read to the students. They included Leader of the Opposition, Portia Simpson Miller; Member of Parliament for the area, Dr. Peter Phillips; Chief Executive Officer of GraceKennedy Limited, Douglas Orane; Mission Director of the United States Agency for International Development (USAID), Dr. Karen Hilliard; radio personality, Paula-Ann Porter Jones; and singer, Alaine Laughton.
Tomorrow (May 5), the Mayor of each parish and other leaders will visit at least one school in the rural parishes to read to students. On Friday, May 8, Prime Minister Bruce Golding is expected to read to students at the North Street Congregational Primary School in Kingston.
National Reading Week is one of the activities being undertaken as part of the Western Union I PLEDGE (I Promise to Lend Encouragement to Develop Growth in Education) programme.
In addition, the Western Union International Foundation will, this year, be partnering with the GraceKennedy Remittance Services, the USAID and the People's Action for Community Transformation (PACT), to establish computer laboratories in 13 schools, at a cost of $8.9 million. The training of teachers is also to be undertaken under the programme, which is also currently staging a national essay competition.