On December 17 last year a group eight students and teachers from three institutions, Waterford High School, the University of Technology and the University of the West Indies visited senior citizens at the Golden Age Home in Kingston where they interacted with the residents and engaged them in the singing of carols and storytelling.  They also assisted with feeding and grooming the residents. Members of the group which forms part of the 'Be Inspired Club' founded by I Believe Initiative (IBI) Ambassador Victoria Melhado, were participants in The Governor-General's Christmas Good Deeds Competition.
For their good deed, the 'Be Inspired Club' was the recipient of the county prize for Surrey which included lunch for two persons at Kingston's illustrious Spanish Court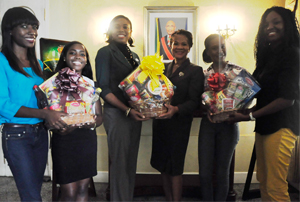 Hotel courtesy of hotelier Mr. Christopher Issa and gift baskets donated by LASCO Distributors.  On Thursday (Feb. 5) members of the group visited King's House to receive the second portion of their prize which was presented by Ambassador Evadne Coye, Special Adviser to The Governor-General.  Group Leader Victoria Melhado said although they did not set out to win a prize for their good deed, the Be Inspired Club welcomed the recognition and would continue to help others in need.
Club members said that they too were grateful for the experience of visiting the Golden Age Home as they learnt a lot about Jamaican traditions.  "They helped us to make the connection between Jamaica of yesteryear and society as we know it today," stated Enique Williams.  Her comment was supported by Shaquille Hines who said that "it was a joyous experience and the residents transitioned traditional values to us."
The competition which was conducted entirely via social media, challenged Jamaicans to show love during the festive season to children in state care, the indigent in infirmaries and senior citizens in homes for the aged. Entries were judged on the basis of extent of preparations for the good deed, investment of time, resources and talent in the project, its impact on recipients and on the participants themselves, as well as the involvement of others through sponsorships or donations.  First place in the competition was awarded to the Chavan Nelson Foundation out of May Pen Clarendon.