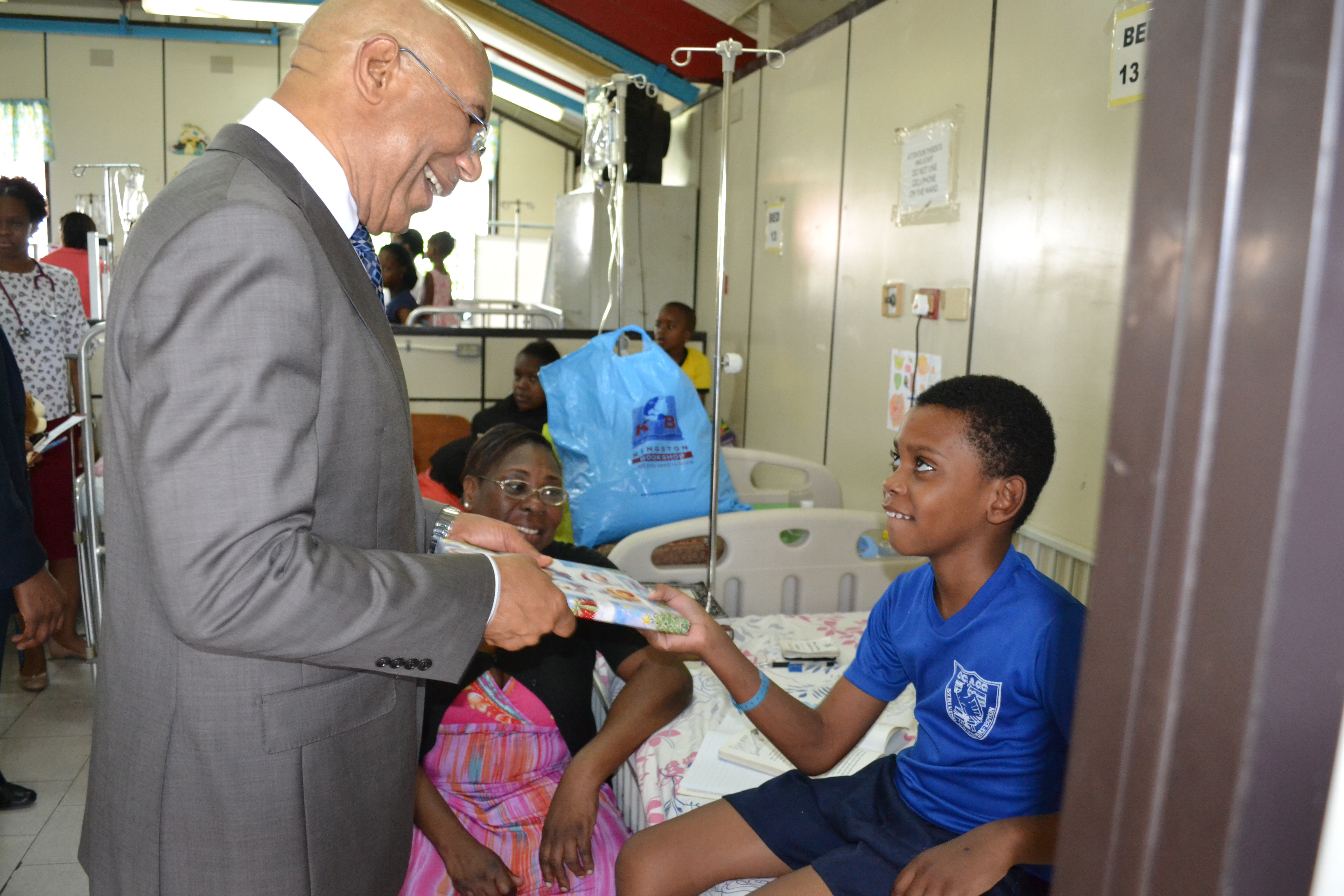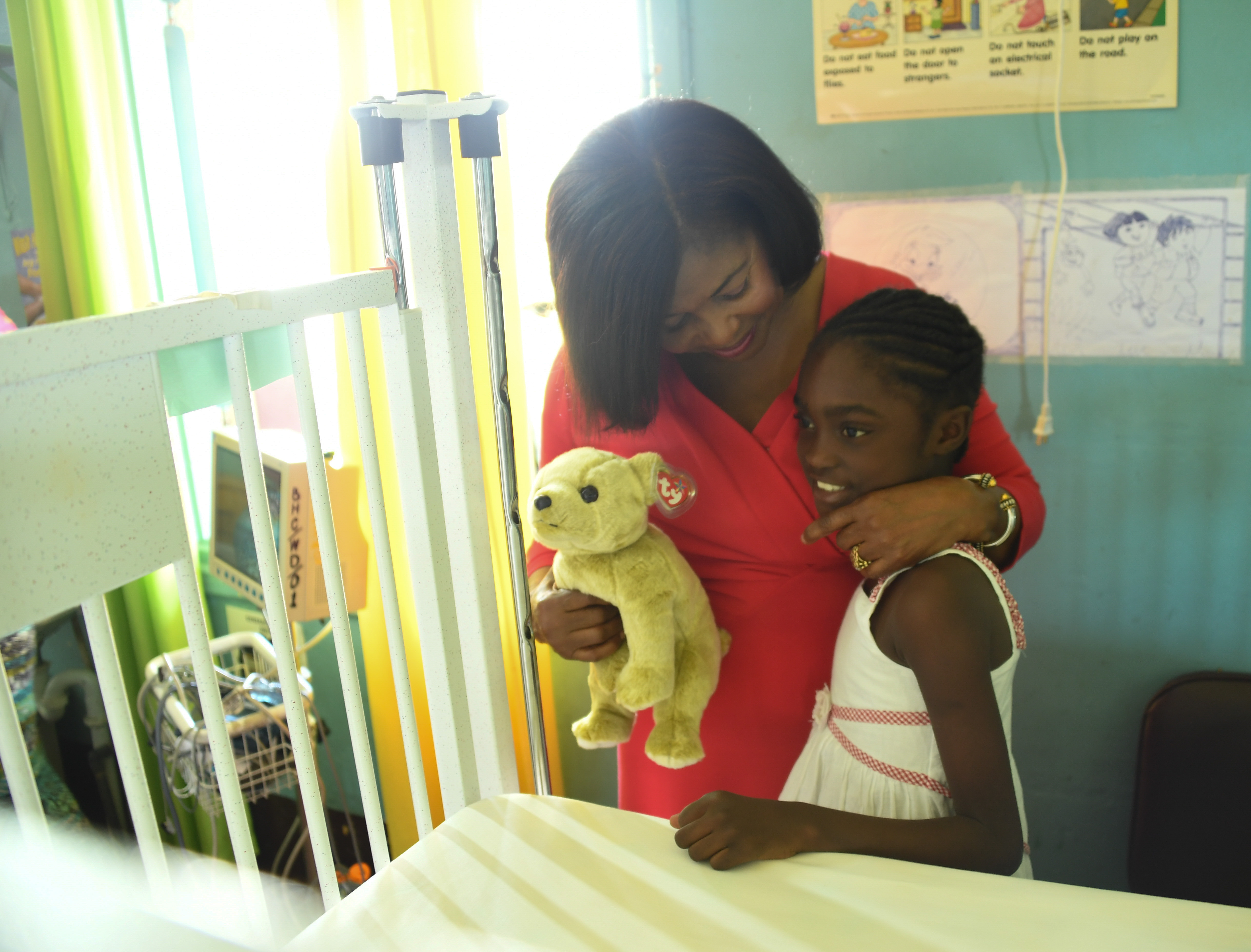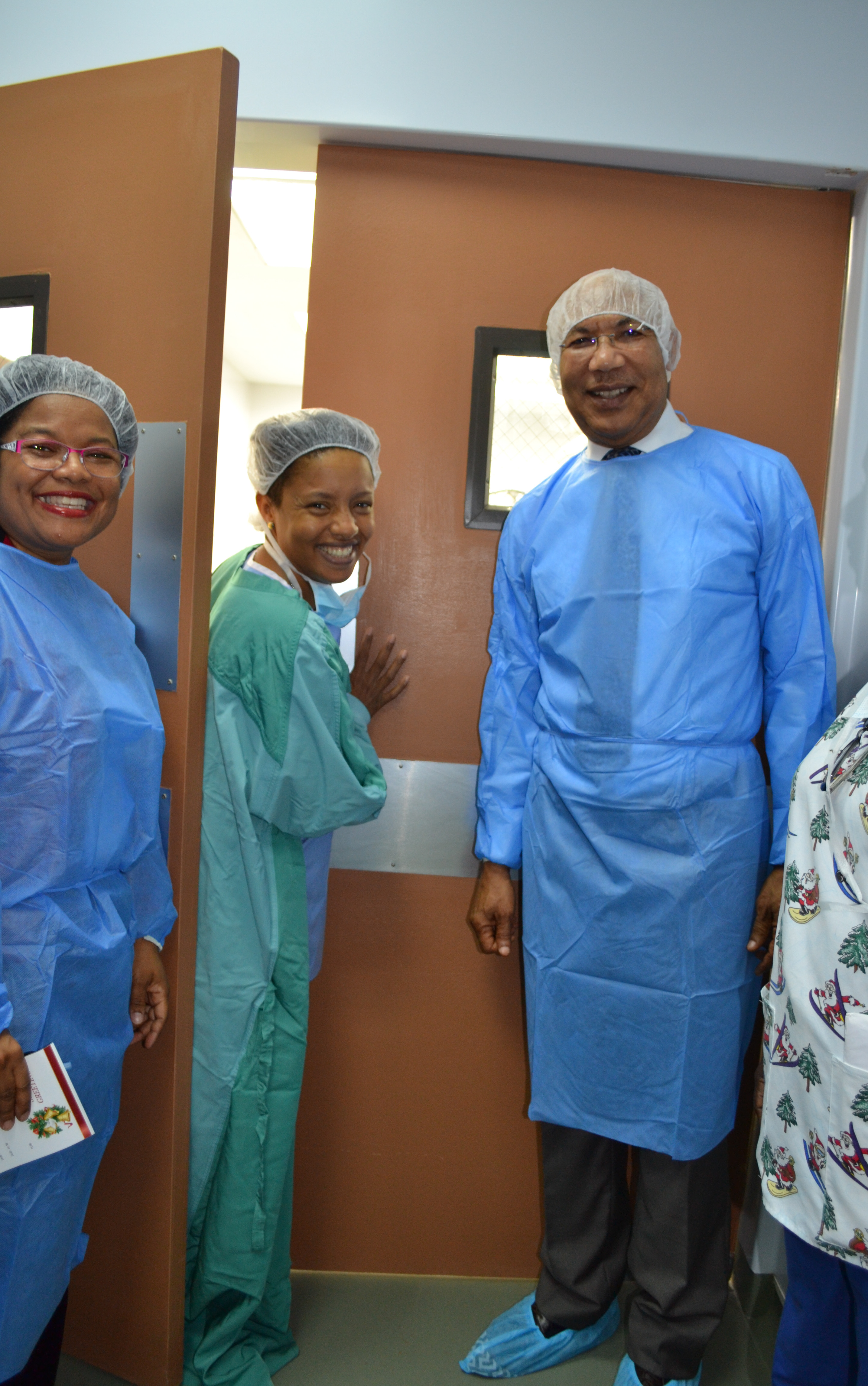 Governor-General, Sir Patrick Allen and Lady Allen brought cheer to the young patients and staff of the Bustamante Hospital for children during their annual Christmas visit, Wednesday (December 6).
Their Excellencies toured the newly opened Cardiac Unit which had just completed its first successful heart surgery, and the Medical and Orthopaedic Wards where they presented gifts, and spoke with the children and staff of the hospital.
Sir Patrick Allen shares a smile with Wayne Stewart (patient) and her father, while visiting the Medical Ward at Bustamante Hospital on December 6,2017.
"This visit is to encourage the children to get better quickly, so that they can get on with their lives, continue with school, and very soon get back with their families," the Governor-General said.
He also commended the medical professionals and staff for the job they have been doing, and stated that their work greatly impacts the wider society, as they help to determine professions for the children with who they interact on a daily basis.
Their Excellencies also used the occasion to present the hospital with fifteen (15) portable blood pressure machines, courtesy of Grace Kennedy as well as a 55inch smart television, and two (2) refrigerators sponsored by Courts Jamaica.
"We at King's House try to source equipment for the hospitals we visit, and we trust that the items handed over today will truly be beneficial to Bustamante and the young patients," the Governor-General stated as they handed over the equipment at the Learning and Activity Center.
The sponsors were also recognized by His Excellency for fulfilling their social corporate responsibility of giving back to communities, especially the children of Jamaica through the donation of these gifts.
Senior Medical Officer at the hospital, Dr. Michelle Ann Richards-Dawson, thanked Their Excellencies for the visit and expressed great appreciation, "for the items received to help in assessing patients and to improve service delivery."
The Bustamante Hospital for Children(BHC) is the only specialist pediatric hospital in the English-Speaking Caribbean.
The institution caters to patients from birth to twelve (12) years old and will be celebrating its fifty-fifth year of existence in 2018.