At the end of an entire morning of nerve-racking interviews, the members of the Jamaica Rhodes Scholarship Selection Committee has announced that 23 year old Dr. Tariq Parker is the   recipient of the prestigious Rhodes Scholarship Award for 2015. The announcement was made by Governor-General Sir Patrick Allen just minutes ago in the Drawing Room of King's House.
Sir Patrick noted that each of the seven candidates were very impressive during their interviews and extended heartiest commendations to them for a job well done. He said that the judging panel considered all the facts during their deliberations. The judging panel also consisted of past Rhodes Scholarship recipients and also Professor Archibald McDonald, Principal of the University of the West Indies which ensured a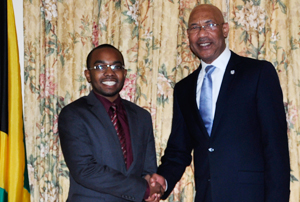 balanced and fair decision.  Sir Patrick reassured the other candidates that he was confident that they will be successful in their various fields.
"The sky is the limit and I know that each of you will succeed in whatever area you pursue," said The Governor-General.
For Dr. Parker, the experience was a humbling one which gave him the opportunity to interact with other amazing individuals who are thriving for success. His advice to other young people was simple: "Be yourself and strive for the best. Don't be afraid to be great!  To take our country to the next level you have to great," he said.
Dr. Parker is a past student of the Wolmers' Boys Schools and has earned his Graduate Degree in the field of Medicine at the University of the West Indies. He will go on to study Neurosurgery at the Oxford University in England in 2015.