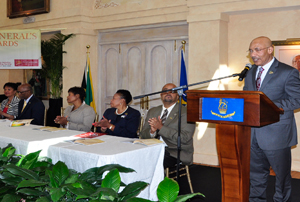 Twenty recipients of the Governor-General's Achievement Awards (GGAA) were honoured on Tuesday, November 26, by Governor-General His Excellency the Most Honourable Sir Patrick Allen at the annual GGAA Pinning Ceremony held at King's House.
Among the twenty recipients, six of them were youth awardees and fourteen were adults.   Three of the six youth awardees, namely Adion Sutherland, Gabrielle Scarlett, Paul McFarlane received the National Youth Award of Excellence while Camay Betty-Shaw, Felicia Grey and Dr. Preci Hamilton were the recipients of the National Award of Excellence.
The Governor-General, in praising all the winners, said:  "It is their stories of fortitude, endurance, determination and triumph that leave a solidimpression on our minds".  Sir Patrick Allen pointed out that the GGAA Youth awardees were first recognised under the umbrella of the "I Believe" Initiative during its National Youth Conference held on October 24 at the Jamaica Conference Centre in Kingston.
"Indeed, this is something worth celebrating! It is that passion to excel beyond our limitations and to become ambassadors of success that will propel our nation into the accelerated growth which Vision 2030 demands," stated the Governor-General.
Sir Patrick Allen paid special recognition to the four recipients who are studying at universities overseas and, as result, were unable to attend the ceremony. He also highlighted that six of the youth recipients were pursuing degrees in the field of medicine, and commented that, at the end of their studies, he anticipates their contribution to Jamaica's development.
Her Excellency the Most Honourable Lady Allen was invited to pin the fourteen adult recipients representing Jamaica's parishes.  Each one proudly stood beside the Custos of his parish as the citations were read by Mrs. Norma Brown-Bell, Orator for the evening.
Master of Ceremonies, Mr. Christopher Barnes Managing Director of the Gleaner Company Limited, ensured the smooth delivery of the programme while Ms. Carole Reid accompanied by Mr. Livingston Burnett, as well as the Jamaica Military Band, under the direction of Bandmaster Shaun Hird,  provided entertainment throughout the function.