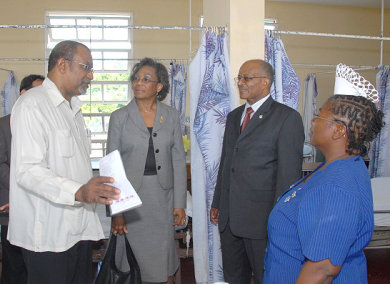 Governor General, His Excellency Professor Sir Kenneth Hall, met patients and staff of the Princess Margaret Hospital in St. Thomas on Friday (Nov. 23), as he began his annual tour of hospitals across the island.
The Governor General, who was accompanied by his wife, Lady Rheima Hall, chatted with patients as he visited the children's, male, female and maternity wards.
Senior Medical Officer, Cecil Batchelor, led the tour.
In the male ward, Sir Kenneth met Lester Duhaney, who had an operation to remove his legs. Mr. Duhaney said he would need financial assistance to purchase prosthetic legs, which cost about $170,000. A farmer by profession, Mr. Duhaney said he would like to continue working on his farm in Bath when he leaves the hospital.
After the tour, the Governor General visited the staff residence where he addressed a small gathering of medical and administrative personnel, including Chief Executive Officer, David Coombs.
He commended the group for their dedication and optimism even while they and the rest of the parish, dealt with the challenges created by the passage of Hurricane Dean and the recent flood rains. The Governor General said that his selection of Princess Margaret as the first stop on his islandwide hospital tour is an indication of how much the work of the staff is appreciated.
"Our presence here is to underscore the efforts you have been making to keep St. Thomas a viable, lively place and so I thank you for that," he stated.
Custos of St. Thomas, Marcia Bennett, who was also on the tour, said the hospital is in need of a fence to ensure the security of staff and patients.
Praising the staff for their hard work and dedication, Custos Bennett recalled visiting the facility during the passage of Hurricane Ivan and observing that all the nurses were on duty. "I was really pleased for their caring and compassion," she added, while commending the staff for continuing to "serve above self."
Gift baskets were presented to the Governor General and Lady Hall by Enrolled Nurse Assistant, Kerry Ann Gordon Brown and Janelle Wilson, a student of Lyssons Primary, respectively.
There were also cultural performances by students from Loving Hands Kindergarten and Lyssons Primary School.
The Princess Margaret Hospital has been providing health care for residents of St. Thomas and sections of Portland over the last 52 years. Her Royal Highness Princess Margaret officially opened the facility on February 23, 1955.
The Governor-General and Lady Rheima Hall will be touring several hospitals between November and December 2007. They are expected to visit the Black River Hospital in St. Elizabeth; May Pen Hospital in Clarendon; and the Bustamante Hospital for Children and the Kingston Public and Victoria Jubilee Hospitals in Kingston.