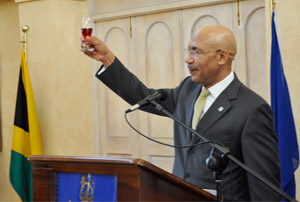 Governor-General His Excellency the Most Honourable Sir Patrick Allen delivered a message from Her Majesty The Queen at the annual hosting of Commonwealth Day at King's House on Monday, March 10, 2014.
In her message, Her Majesty noted that while life differs widely throughout the Commonwealth, each country is committed to the same goals.
"Together we offer each other encouragement and draw strength from this mutual support. The understanding that we belong together, and are able, through teamwork, to achieve far more than we could do alone, has always been at the heart of our approach.  For all of us this is now captured in the Commonwealth Charter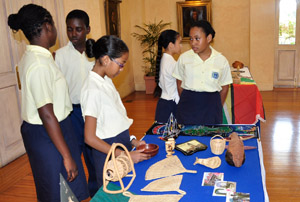 which sets out the values and principles which guide and motivate us", she said.
The Queen highlighted that advances in technology has enabled the Commonwealth Community  to reach a greater number of young people in schools, and electronically using the online 'Commonwealth Class' initiative, and through events in local communities where the Commonwealth flag is being raised.
"I am delighted that in this, the year of 'Team Commonwealth', we will be working to build a brighter, united future in which every one of us can play a part and share in its rewards", said the Queen.
In acknowledging the hosting of the 20th Commonwealth Games to be held in Glasgow and the passing of the baton through the different countries, Her Majesty said that the images "bring vividly to life what we mean by the Commonwealth family: it is wonderful to see the warmth, shared endeavour and goodwill as the baton is passed through the hands of many thousands of people".
Her Majesty highlighted that while national teams will be concentrating on the competition in August, Team Commonwealth will have a longer focus, working together to achieve a more enduring success.
At the end of the message, His Excellency the Most Honourable Sir Patrick Allen, raised a toast to the good health, long life and prosperity of Her Majesty The Queen.