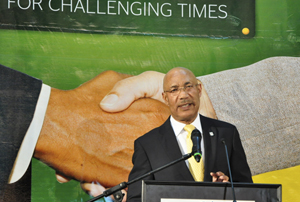 Governor-General His Excellency the Most Honourable Sir Patrick Allen said that leaders from every sphere of national life have taken bold steps to focus on the prospects of Jamaica's future through prayer and contemplation. The Governor-General was speaking at the staging of the 34th annual National Leadership Prayer Breakfast on Thursday, January 16, at the Jamaica Pegasus Hotel in Kingston.
Speaking on the theme "Courageous Leadership for Challenging Times", Sir Patrick Allen said that the theme prompts individuals to acknowledge that it takes an enormous amount of courage to lead because of the issues with which leaders must contend.
"They face opposition; they must bridge differences without compromising principle. They must deal with support wisely, and understand that leaders invariably disturb people's equilibrium, their loyalties and habits, and often leaders take persons out of their comfort zone, evoking responses more based on anxious fears than on hard facts," explained the Governor-General.
He said that at this critical juncture in our journey as a nation Jamaicans are looking to its leaders to lead them confidently through the difficult conditions that they are experiencing.
Acknowledging that crime, and other social ills, combined with economic woes have plunged many individuals into despair and negativity, the Governor-General said that we cannot allow ourselves to be numbed to the cries of 'Rachel weeping for her children and cannot be comforted'.
"It is very critical that we must now garner the collective will of all leaders in all spheres of life: starting with our religious leaders, civil leaders, political leaders, social leaders, business leaders, entertainment leaders so that we can collaborate in combating this pandemic," said Sir Patrick Allen.
He called on leaders to serve with fixity of purpose and singleness of mind to collectively defeat the crime monster, and to reassure the people of Jamaica that they themselves can be brave and courageous in the fight to combat crime, stamp out corruption and or other social ills.
"I believe in a positive future for Jamaica. I continue to believe that God hears the prayer of our National Anthem and that even now, through activities such as this, the ground is being prepared for our accelerated development, for the suppression of crime and violence and for a peaceful orderly society," stated Sir Patrick Allen.
The Governor-General thanked the Victoria Mutual Building Society and other corporate entities for their ongoing commitment to the initiative and expressed the view that the Committee for the Upliftment of the Mentally III (CUMl) who is this year's beneficiary, is deserving of the support.