Governor-General Sir Patrick Allen has charged financial institutions to go beyond their usual duties and services and play a major role in the transformation of the country. Sir Patrick Allen was speaking at the formal opening of the Highgate branch of the First Regional Cooperative Credit Union in St. Mary yesterday (May 13).
"I encourage you to look for even more opportunities to invest in people, to help build hope and character within the people of our nation, and in the process, continue to support the positive programmes aimed at reversing the sliding values and improving the moral standards of society", said The Governor-General.
He observed that the people of Jamaica were in need of financial empowerment. This, he said, would help them to develop a level of confidence that would influence them  to  make sound financial plans.  Sir Patrick Allen told the Credit Union members that: "Through [your] commitment to provide world-class financial products to your members, you help them to realize their life ambitions and goals".  He noted that this would also aid the nation in achieving its vision for 2030, a vision which will require the commitment of Jamaicans from all walks of life.
The Governor-General said that it was his constant belief in the people of Jamaica that underlay his conviction that "there is nothing wrong with Jamaica that cannot be fixed by what is right with Jamaica".  He promised to continue using his office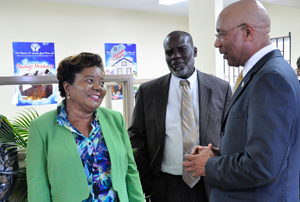 "to engender hope, promote a more caring society and to influence our people along paths which will permit our peace, productivity and prosperity."
At the end of his address, The Governor-General declared the Highgate branch open.  He was joined by Her Excellency The Most Honourable Lady Allen, as well as First Regional's CEO Patricia Smith and President Donald Mason in the symbolic ribbon cutting exercise.