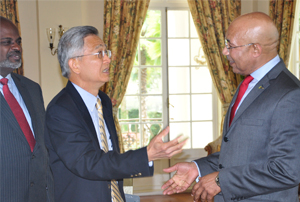 His Excellency the Most Honourable Sir Patrick Allen received on a Courtesy Call, Dr. G.T. Ng, Executive Secretary of the Seventh-day Adventist World Church, at King's House on April 17, 2014.
Members of the General World Headquarters of Seventh-day Adventists, the Inter- American Division and the Jamaica Union Conference, also joined Dr. Ng on his visit with The Governor-General.
During the meeting, Sir Patrick Allen and the Church leaders discussed how impactful they (Church leaders) can be in charting new courses to address some of the social issues plaguing not just Jamaica but the world.  Also highlighted was the significance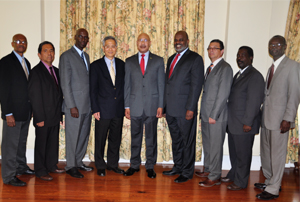 of each leader being able to perform effectively in both their public office as well as in the Church, without compromising either position in which they serve.
In addition, the visiting group used the opportunity to update the Governor-General on the activities of the Church as well as the strategies to achieve its mission.