Governor-General the Most Hon. Sir Patrick Allen has named Sherona Forrester, Economics major at the University of the West Indies, the 2016 Rhodes Scholar. 
The announcement was made at King's House this afternoon (November 19, 2015) after the process which started at 9am ended close to 3pm.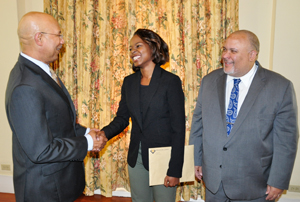 In his brief statement leading up to the announcement the Governor- General said, "I think we had some very good scholars, they have a pretty good idea of where they are and where they want to go."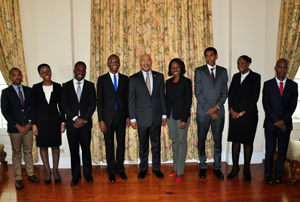 Forrester who is a Glemiur High School past student and a member of the Jamaica Senior Women's Football team was in awe when Sir Patrick Allen named her the winner. 
The  2016 Rhodes Scholar selection panel comprised Governor-General His Excellency Sir Patrick Allen, Dr. Nadiya Figueroa, Dr. David McBean, Marriamme McIntosh Robinson, Paul Lalor and Peter Goldson; Rhodes Scholars of previous years.r. 
Dr. David McBean commented that, "the candidates epitomize the Governor-General's I Believe statement that there is nothing wrong with Jamaica that cannot be fixed by what is right with Jamaica. They were all worthy candidates."
Meanwhile, Mr. Peter Goldson secretary of the Jamaica and Commonwealth Rhodes Scholarship committee noted that all the eight candidates were students of the University of the West Indies.
Established in 1903, the Rhodes is the oldest and perhaps the most prestigious international graduate scholarship program in the world. Yearly, it supports an outstanding all-rounded Jamaican student to attend the University of Oxford.
Source: http://www.rhodesscholarshiptrust.com/rhodesscholarship/about-the-rhodes-scholarships