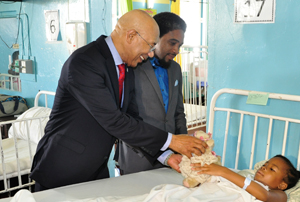 Governor-General, The Most Honourable Sir Patrick Allen and the Most Honourable Lady Allen were met with a warm welcome from the children, medical, administrative and other staff of the Bustamante Hospital for Children this morning (Tuesday, December 8, 2015) when they commenced their signature Annual Hospital Visits.
In an encouraging address to the welcoming senior members of the hospital team, The Governor-General expressed that he was impressed with the ambiance of the hospitals and urged them to stay committed, "We don't know all the challenges you encountered during this year but we want to stand beside you and say we hope your troubles will be miles away …and it was a troubling year in many respects."
The Governor-General emphasized the importance of being hopeful and positive, citing the attitude of the children on the wards he toured along with Lady Allen, bringing cheer to the youngsters through presents and words of comfort.  He alluded to the smiling faces, of the children noting that they were devoid of pessimism despite the challenging nature of their conditions.
Sir Patrick Allen stated out that the season was about being peaceful and calm in his well received "heart to heart remarks."
The Governor-General commended the hospital:
Sir Patrick Allen also mentioned the diligence and commitment of the doctors and the nurses as they discharged their duties noting these were some of the things which made a successful hospital.
"There's no doubt in my mind that we are proud of what is happening here at Bustamante, the credit all belongs to you and the tremendous work you do overtime," the Governor-General commented.
The Governor-General's comment was backed by the evidence of cleanliness and the friendly ambiance of the hospital. 
Chairman of the South East Regional Health Authority, Dr.Andrei Cooke also addressed the gathering, where presentations were made to the hospital by Their Excellencies and a number of other organizations.
 Please check out The Office of the Governor- General Jamaica on Facebook for photographic highlights of this luminous tour at the link below
https://www.facebook.com/media/set/?set=a.744153789062599.1073741893.165094856968498&type=3